The third Senior Officials Meeting (SOM III) in Da Nang and Hoi An recently hosted in-depth discussions on anti-corruption. In light of the meetings, the Director of the Singapore Corrupt Practices Investigation Bureau (CPIB) spoke with the Vietnamese press Tuesday and elaborated on Singapore's anti-corruption policies, including the freedom to investigate officials, freedom of the press and anti-corruption education.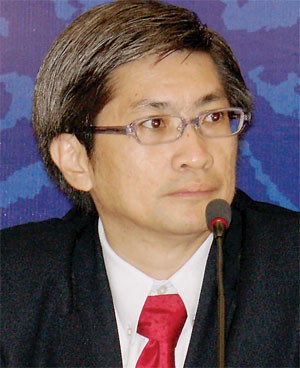 Mr. Soh Kee Hean speaks with the Vietnamese press on Sept. 12

Singapore's anti-corruption system works effectively thanks to the strengthened power of CPIB and strict punishments dealt to anyone convicted of corruption and bribery acts.

But what's more, anti-corruption forces in Singapore win the trust of the people by ensuing that no corruption is untouchable while always keeping close communicating lines opened to the public through the press and education.

Mr. Soh Kee Hean said Singapore has been battling corruption since before it even gained independence in 1965. Corruption has always troubled the country, especially its loosened legal system.

The Corrupt Practices Investigation Bureau (CPIB) was established in 1952 when the country was still ruled as a British colony.

Singapore's development has since seen the consistent improvement of its legal system and stricter laws applied against corruption.

Strong administrative reforms have created favorable conditions for local authorities to work more effectively and reduce the chances of corruption.

Advanced IT has been used intensively and broadly to minimize direct contact between the public and corruptible sources.

No "dead zone"

Currently, CPIB only receives direct instructions from the Prime Minister and is the most powerful body of Singapore entitled to investigate corruption in political, civil and legal fields.

"Any corruption or bribery act in any region or at any level is punished, regardless of whether the accused is an individual citizen or a governmental agency, or even a senior official," said Mr. Soh Kee Hean. "Offending individuals, besides being subjected to imprisonment, must refund the money or be subjected to longer prison terms."

Accused enterprises are "black listed," unable to take part in other business opportunities.

He added that Singapore has no conception of "dead zone" in corruption investigation, and even if the Prime Minister were accused of corruption, Singapore's constitution states that the CPIB is allowed to obtain authority to investigate from the president. In fact, 95 percent of cases prosecuted by CPIB are guilty.

Role of the press

Mr. Soh Kee Hean also mentioned the important role of the press in preventing corruption in Singapore.

The mass media is encouraged to report and disclose corruption or bribery cases and often maintains direct contact with CPIB for free information exchange without any obstacles.

The press's active involvement has contributed to the presence of "anti-corruption culture" and has raised the public's corruption awareness.

Singapore also has a praiseworthy salary system for civil servants, which aims to curb the temptation towards corruption. There is not much difference between the private and public sectors' salary. If payment for the private sector increases, civil servants' salary will also increase, and vice versa.

Corruption awareness education starts early

Singapore realized early on that interaction with the public is a necessity in any fight against governmental corruption. So, as the relationship with the press became a vital element of the corruption fight, so did a more direct relationship with the public, communicated though and rooted in public education.

When CPIB was first established, the government built an educational program that focused on young students and the community.
The program is implemented from day one of schooling and CPIB holds regular meetings with educational directors to keep schools and teachers up to date on the latest in anti-corruption education.

Also, CPIB organizes particular classes for college students who study public administration and governmental management.

Singapore regularly holds big campaigns to educate the public about the importance of the fight against corruption.