Blogging has only been around in Viet Nam for a little over a year, but it has already created huge controversy. The pending lawsuit of famous singer Phuong Thanh against blogger Huong Tra is just the beginning.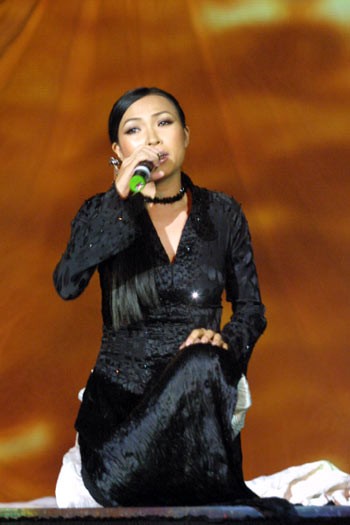 Singer Phuong Thanh
Prior to Phuong Thanh's September concert, "Mua" (Rain), in Ho Chi Minh City, freelance journalist Huong Tra wrote on blogsite "Hoi Nhung Nha Bao Tu Te" (association of decent journalists) that the show was free to all. Organizers tried to confirm that everyone needed a ticket; however, the damage had been done and several fans were disappointed.
Thanh also complained that prior to the aforesaid show, Tra listed the location incorrectly, writing that "Mua" would take place at a different venue than true—causing yet-undetermined financial losses.
Thanh immediately lodged complaints at competent authorities accusing Tra, under blogger Co Gai Do Long, of "tarnishing her fame."
Thanh also claimed that she tried to contact Tra to correct the matter, but in vain. Tra explained on her own blog that Tra did not pick up her cell phone as Tra "knows too well her [Thanh's] character."
Meanwhile, Tra's blog has been deleted by the blog administrator on the grounds that "Phuong Thanh's fans have written some comments that degrade the blogsite."
However, the blogging war did not stop there. Tra, in a new blog, wrote that it is her duty to "purify Vietnamese musical life," and that bloggers will support her.
In her new blog, she did not use Thanh's name directly, but only alluded to her with the name "Co." Tra's use of "dirty" words in reference to the singer offended Thanh.
According to many lawyers, Viet Nam does not have regulations on "public figures" and thus, publicizing private affairs of any one person can be deemed as a violation of privacy; offenders can be sued.
However, they worry that because the blog Thanh's lawsuit is based on has been deleted, their case may not hold. Printed versions have no legal status.
Fortunately, there are some techniques that can recover deleted blogs, according to Yahoo, and the company will do more to control blog contents in Viet Nam in the future.
Other controversies
Model Xuan Lan has threatened to sue a newspaper for quoting her blog without her consent. This log wrote about her unconventional anger at paparazzi.
Composer Thai Thinh is being mired in a slinging match with journalists on his blog, while journalist H.N.V and two bloggers are using strong words against each other on their blogs after the former wrote an article blaming the degradation of morality among female students on blogs.
Meanwhile, the Vietnamese Ministry of Culture and Information is drafting regulations to prevent bloggers from posting subversive and sexually explicit content online.
On an international scale, the International Herald Tribune reported several days ago that Uzbekistani billionaire Alisher Usmanov and former UK ambassador to Uzbekistan Craig Murray were clashing over a blog. The former claimed the latter wrote "potentially defamatory" information about him.
Of course, blogging can have its pros in Viet Nam. There are many blogs calling for public support for victims of the wartime defoliant Agent Orange, or encouraging people to donate blood, or vote for Ha Long Bay's inclusion as one of the world's seven natural wonders.
Online ratings outfit alexa.com ranks the number of Vietnamese bloggers at fourth in the world.
A blog, for those people who don't yet know, is a kind of personal online diary, although the blogger can almost post anything they like, including fiction and opinion pieces.

Related articles;
From Blogger to Published Author
Canadian Blogger Scores Big with the Locals