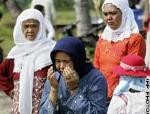 An Acehnese woman weeps as her relatives look on at the site of a mass grave.
BANDA ACEH, Indonesia (AP) -- A siren's wail was followed by a minute of silence Monday as mourners marked the moment a year ago when the Indian Ocean tsunami crashed ashore in Asia, laying waste to coastal communities and sweeping away at least 216,000 lives.
From worst-hit Aceh province in Indonesia to the tourist beaches of Thailand and tropical Sri Lanka, thousands of survivors, victims' relatives and officials prepared to hold a minute's silence at the times the waves hit as part of commemoration ceremonies.
The tsunami first smashed into Aceh, which was closest to the epicenter of the magnitude 9 earthquake that spawned the 10-meter-high (33-ft.-high) waves.
Indonesia's President Susilo Bambang Yudhoyono set off a siren at 8:16 a.m. local time (1:16 a.m. GMT Monday, 8:16 p.m. ET Sunday) to mark the moment followed by one minute of silence.
In low-key ceremonies, the parents of children who were snatched away by the tsunami prayed at mass graves, while Western tourists returned to palm-fringed beaches to lay wreaths for lost friends.
"After I come here, I somehow feel satisfied," said Dasniati, who traveled 15 hours to lay petals on a grave that holds the remains of 47,000 victims in Indonesia's obliterated Aceh province.
Though she has no way of knowing for sure, she thinks her 10-year-old daughter was among those dumped in the hastily dug pit in the days after the December 26 tsunami.
"I pray that Allah accepts her at his side."
European tourists who survived the tsunami were among those who returned to rebuilt resorts in Thailand to remember family and friends who did not.
And in India, children dressed in white marched down a street where thousands were washed away.
On Monday, exactly one year after the magnitude-9 earthquake ripped apart the ocean floor off Indonesia's coast and sent 33-foot-high waves crashing to shore, the hardest hit countries were marking the sad anniversary with official ceremonies and a minute of silence. (Watch the tsunami's effects, then and now -- 5:05)
Flags will be lowered to half-staff in Sri Lanka, with bells sounding in churches, mosques and temples. Hundreds in India will march silently to a mass burial ground. And in Thailand, thousands of floating lanterns will be floated to sea.
For many of those who decided to hold private ceremonies one day early, it was a somber Christmas.
Sigi Gsteu, of Feldkirch, Austria, wiped away tears as he remembered three close friends who died when the torrents flooded their Thai resort bungalow.
"When a person is missing and you don't have [a body], you cannot say goodbye," he said, placing two simple wooden plaques engraved with his friends' names beneath a lone pine tree where the resort once stood.
This is my "chance to say goodbye," he said.
Overnight, at one Catholic midnight Mass in a hotel on Thailand's Patong beach, the priest urged attendees to "remember all those who lost their lives in the tsunami."
Outside, revelers partied with bar staff dressed in Christmas hats in the beach's notorious nightclub district.
After attending Christmas ceremonies on earthquake-shattered Nias island, Indonesian President Susilo Bambang Yudhoyono and his wife Ani wept as they hugged children at a home for more than 200 tsunami orphans in the Sumatran city of Medan.
"We promise to rebuild the future for the Acehnese," Yudhoyono said.
In India, more than 300 people attended an interfaith service of Hindu, Christian and Muslim prayers on Sunday before joining a march led by children dressed in white through Nagapattinam, where thousands were washed away.
At least 216,000 people were killed or disappeared in the waves, according to an assessment by The Associated Press of government and credible relief agency figures for each country hit. The United Nations puts the number at least 223,000.
The true toll will probably never be known -- many bodies were lost at sea and in some cases the populations of places struck were not accurately recorded.
The tsunami generated one of the most generous outpourings of foreign aid ever known, more money than could be spent in one year. About $13 billion (euro11 billion) was pledged to relief and recovery efforts, the U.N. says, of which 75 percent has already been secured.
But the pace of relief and reconstruction has been criticized.
Though local economies are quickly recovering, 80 percent of the 1.8 million people displaced by the disaster still live in tents, plywood barracks or the homes of family and friends, according to the aid group Oxfam International.
Margareta Wahlstrom, the U.N.'s assistant secretary-general for humanitarian affairs, urged survivors still waiting for houses and jobs to be patient.
"If you don't do things well they will collapse in couple of years," she told The Associated Press on Sunday. "If you don't take time to do proper planning, and ask people what they want ... then you are going to create new problems along the way."
Survivors and officials, meanwhile, were taking stock of peace drives in Sri Lanka and Aceh, the two areas hardest hit.
In Aceh, the tsunami served as a catalyst for the government and separatist rebels to end three decades of fighting, with each side saying they did not want to add to people's suffering.
But in Sri Lanka, disputes over tsunami aid and an upsurge in violence have dashed hopes for an end to the long-running conflict.