Six "E-ideas to save Vietnam" were announced by British Council and Lloyd Register Quality Assurance today in Hanoi drawn up from a great number of entrepreneurial environmentalists.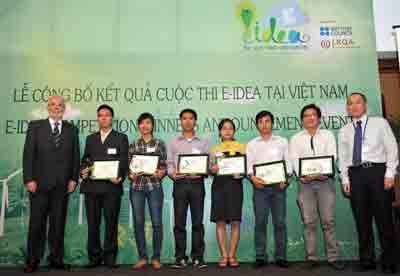 Sixwinners at the giving ceremony (Photo: Courtesy of British Council)
Organized in seven countries including Australia, China, Indonesia, Japan, Korea, Thailand and Vietnam, E-Idea marks a unique new partnership between the British Council and Lloyd's Register Quality Assurance [LRQA] that will see both organizations jointly promoting and running E-Idea.
The ideas were submitted to the British Council for their E-ideas initiative which requested that Vietnam's young people come up with environmental ideas that would create great social enterprises businesses.  The winning ideas wouldn't just be good for the environment – they'd be good for the economy too.
To mark the unveiling of the E-ideas, an E-exhibition was set up to showcase the winning ideas.  Guests had the opportunity to visit the exhibition booths, examining individual projects and challenging the winners about the feasibility and creativity of the ideas.
Among the winning projects, Excavatus project stunned the judges with the idea of monetising earthworms and cows' dung while helping a rural district to solve their chronic problem of pollution caused by the excessive amount of cows' excrement.
The project builds on the important fact that earthworms consume dung and in turn provide rich nutrients when used to feed chickens, birds or fish.  In addition, earthworm dropping has been proved to be the most nutrient-rich organic fertiliser and soil conditioner and is in high demand.
Green Health's E-idea is even more out there - with the proposal of turning the energy discharged by people exercising around the lake to operate a water processing turbine to clean up the water. The project reflects the lifestyle of Hanoi where its inhabitants have the habit of exercising around the lake in great numbers every morning or afternoon. 
Vertical Garden is a brilliant idea that helps create a unique organic vegetable garden while addressing the urban problem of the lack of space.  Instead of growing vegetables on the horizontal ground as usual, Vertical Garden provides an offer of vertical panels with a built-in watering system where an area as small as 5 square metres can accommodate 750 pots of vegetables/plants. The project impressed the judges as the all-in-one system is ready to go to the market.
Other winning ideas include a digital forum for sharing ideas to develop organic agriculture, recycling plastic bottles/ containers to create green space in schools/universities and producing organic fertiliser out of domestic waste.
Six winning teams/individuals received a cash award of VND100,000,000 (nearly US$5,000) each as seed funding for their project.  One representative from each winning project will have an exciting opportunity to meet with their winning fellows from participating countries in Indonesia (3-5 October 2011).
In addition, a study tour to the UK will be held by May/June 2012 to look at community-based approaches to climate change in the UK.  Only one E-idea representative from the most successfully implemented project will have chance to join this tour. However, all 18 shortlisted applicants will be part of the program and they will all benefit from being part of relevant E-idea initiatives.  This includes access to expert technical, business, marketing and networking support for the implementation of their projects.
Robin Rickard, Director of British Council, said: "Vietnam is one of the countries most at risk from climate change and with urban expansion faces more environmental concerns than most. Against this backdrop we are convinced that Vietnam will be well represented among the future's eco entrepreneurs and we want to help through initiatives such as E-idea."