In a freak accident in Lai Xuan Commune of Thuy Nguyen District in the northern city of Hai Phong, sudden lightening struck the dynamite fuse at a stone quarry, igniting it and causing an explosion that killed six workers and injured four others on Monday.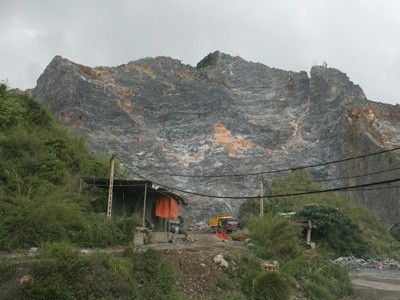 The cliff on which lightening struck, killing six and wounding four others (Photo: Tien Phong)
Colonel Ta Xuan Phuong, head of the Police Department in Thuy Nguyen District, said the accident occurred at 10am when workers of Quyet Tien Trading Company and Phuc Son Cement Company were drilling holes along the cliff to fill with dynamite.
The workers were busy drilling holes in the cliff to fill with dynamite to blast the boulder, expecting to complete the task and ignite the fuse by 11am of the same morning.

However, the weather suddenly changed and clouds rolled in accompanied by sudden thunder and lightening. A moment later lightening struck the electric wire fuse, igniting it and causing the dynamite to blast. The resulting explosion killed six workers and seriously injured four others.
Among the six dead, four workers were from Lai Xuan Commune and two from Hai Duong Province.
Immediately after the accident, representatives from the two companies and authorities from Thuy Nguyen District visited the site and offered financial assistance to the families of the dead and injured workers.