In an interview by Sai Gon Giai Phong Newspaper yesterday, Da Nang's Party Secretary Tran Tho said the project to build a skyscraper dubbed a "lighthouse" on the Han River in the central city will be cancelled.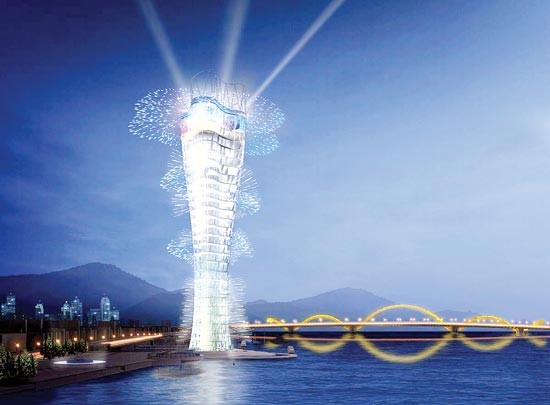 An artisit impression of the skyscrapper
Mr. Tran Tho said that Da Nang city People's Committee has just given approval to implement the project but not yet agree to carry out the project on the river.
However, after receiving the objection from the public and architects, the city authority decided to cancel the project, he said.
Mr. Tho said that he had requested the city's government to look for a new place to build the skyscraper.
After the city committee approved the project, many architects and municipal development experts raised their voice against the project.
They said that project would damage landscape of river that has helped the city become one of the most beautiful cities in Vietnam
In addition, the project's investor- investment joint stock company DHC- called the building as a lighthouse that experts believed was not necessary because no one builds a lighthouse on river.
Experts said the investor swindled the local government because they knew that the government had never approved one more skyscraper along river banks.