Vietnam and Slovakia should fully tap their potential for cooperation, especially economic, visiting Speaker of the Slovak National Council, Pavol Paska, told his host and Vietnamese counterpart, Nguyen Phu Trong, at a meeting in Hanoi January 27.

He hoped bilateral trade would grow in the near future as an increasing number of Slovakian enterprises are showing interest in the Vietnamese market.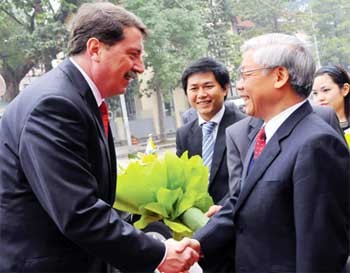 A chairman Nguyen Phu Trong (R) welcomes the Speaker of the Slovakian National Council, Pavol Paska, in Hanoi January 27. The two sides are seeking to expand cooperation in various fields, especially economics. (Photo: SGGP)
Executives from many major companies in the infrastructure development, banking, heavy industry, healthcare, and petrochemical industries are accompanying his delegation and looking for tie-ups with Vietnamese partners, he said.
The Slovakian parliament wholeheartedly supports the strengthening of ties, he said.

Vietnam wants to promote the exchange of high-level visits between the two sides to bolster mutual understanding, Mr Trong said.

He thanked Slovakia for putting Vietnam on a priority list for providing official development assistance and creating favorable conditions for overseas Vietnamese and providing scholarships to Vietnamese students.
He also thanked Slovakia for its support for Vietnam's export of leather-capped shoes to the EU.

The National Assembly would help nurture the friendship and multifaceted cooperation between the two nations, Mr. Trong promised.
The two leaders agreed to institutionalize cooperation between the two legislatures in future by creating a legal foundation for it.
At a media briefing after their talks, Mr. Paska said: "We hope an agreement will be signed between the two legislatures when the Vietnamese National Assembly chairman visits Slovakia in the near future."
The potential for economic cooperation is enormous but the two sides have yet to act on it, he said.
"As an EU member, Slovakia can act as Vietnam's gateway to the EU market which has a population of 500 million. Vietnam, as the ASEAN chairman this year, can help Slovakia in penetrating the ASEAN markets."
He suggested starting direct air services between the two nations' capitals, Bratislava and Hanoi, to facilitate bilateral exchanges and trade. He said he has invited Mr. Trong to visit Slovakia at a convenient time.
Mr. Trong said: "We have discussed measures to strengthen economic, investment, trade, education, health, and training ties. We have also agreed to strengthen our coordination at regional and international forums."
At a meeting later with the visiting dignitary, General Secretary Nong Duc Manh thanked Slovakia for its support to Vietnam's development efforts.
Vietnam has always attached great importance to ties with traditional friends like Slovakia, and would do its best to consolidate those relationships, he said.
The Vietnam-Slovakia Business Forum was held the same day at the office of the Vietnam Chamber of Commerce and Industry.
Among the Slovakian companies taking part was one that seeks to build an expressway in Vietnam, Mr. Paska said.

"If a contract cannot be signed immediately, an MoU will be signed," he said.