Tardiness in issuing instructions for the implementation of laws and regulations has seriously affected Vietnam's law enforcement process, Chairman of the National Assembly (NA)'s Law Committee Nguyen Van Thuan said at the 26th session of the NA's Standing Committee in Hanoi on December 15.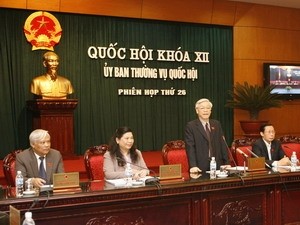 National Assembly Chairman Nguyen Phu Trong (standing) speaks at the opening of the 26th session of the NA's Standing Committee in Hanoi on December 15
Mr. Thuan pointed out that among 63 laws, 18 ordinances and one resolution which have taken effect, 437 of 704 contents that need to be regulated in detail have yet to be completed.

Many inadequacies remain in creating laws, and the late promulgation of instructions is just one of them, he added.

Expenditures for formulating and issuing legal normative acts are also lacking, Mr. Thuan said. For instance, the cost budgeted for appraising a legal document issued by the Government or the Prime Minister is a maximum of only VND500,000 he said.

Mr. Thuan said officials who supervise the promulgation of legal documents haven't paid due attention to their duties and responsibilities.

He raised seven petitions for this issue, including not approving drafts that are unclear and have a large amount of general content, and amending and supplementing regulations that are contrary to laws and ordinances.

Minister of Justice Ha Hung Cuong said it's infeasible in Vietnam to ask ministers to completely abandon their management tasks to formulate macroscopic policies.

However, ministers and officials need to focus more on creating laws and there should be a mechanism for them to perform their responsibilities in full. For instance, those who draft bills should spend adequate time studying them to make improvements, he added.

At the session, the committee also discussed the NA's sixth meeting.

Officials agreed that at the meeting, the NA significantly improved its question-and-answer sessions by promptly dealing with current pressing social problems to help voters gain a deeper understanding of the responsibilities of government officials.
They asked the NA's agencies to inspect and appraise their capacity to help the NA conduct its question-and-answer sessions successfully.
The NA Office spoke about its preparations for the seventh meeting, saying that at least 12 bills and a resolution on the program for 2011 will also be discussed at the next meeting.