Lucky money and worship offerings during the Tet Lunar New Year festive season is normally made in currency notes of smaller denomination, so for the last two weeks or so, several areas in Hanoi are abuzz with people trying to exchange currency for smaller denomination notes.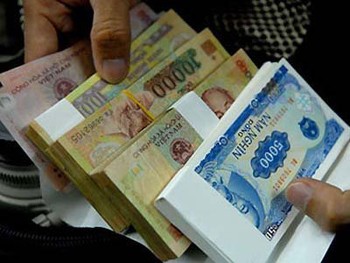 Exchange for smaller denomination currency notes is at high premium ahead of Tet

In the free market, the smaller denomination notes are selling at a premium as most people cannot exchange at banks unless they know someone in person at a bank.
Paper currency of VND200-500 is selling at a premium of three to four times the value.
Along Dinh Le Street near Sword Lake, a popular haunt for exchanging currency, a wad of VND200 notes worth VND100,000 can set you back VND300,000 and a wad of VND500 notes worth VND500,000 can cost around VND750,000.
Currency providers claim they can supply an unlimited amount of notes as long as customers call in advance, and they will then even home deliver.
Because of a scarcity of low denomination currency notes, exchange fee is higher than previous years in the regular areas like West Lake, Quan Su Pagoda, Phuc Khanh and Ha Pagodas.
Online exchange service is also provided on the internet at a higher rate than home delivery.
There is a high demand for US$2 paper notes which is considered a lucky note. A wad of about 50 US$2 notes can cost VND50,000 each, which reduces to VND48,500 for higher volume orders, say over 100 notes.
A couple of US$2 notes with issue year same as year of birth can cost around VND480,000.
According to the State Bank of Vietnam the volume of new currency notes of different value is clearly determined for Tet Lunar New Year by the commercial market and has nothing to do with worship offerings in a pagoda. However, any case of speculative exchange will be strictly handled, the bank instructed.
The bank has also sent a dispatch to the Ministry of Culture, Sports and Tourism and the Government's Religious Committee asking them to use currency appropriately during the festive season.