Spam and fraud SMS messages have become a major problem for cellphone users, telecom network operators warn.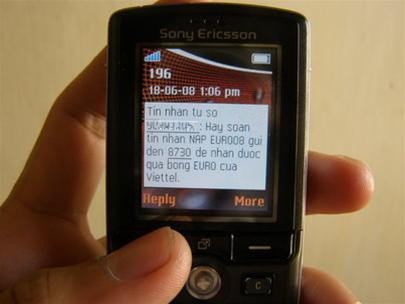 An SMS message purporting to offer a gift of a football in return for a message during the 2008 European Championship. SMS frauds are becoming rampant in Vietnam in the absence of regulatory oversight. (Photo: Tuoi Tre)
MobiFone provided SGGP information about this burgeoning problem on March 16, including a prominent case in which a subscriber received as many as 2,800 spam and fraud messages saying things like "You have received a special gift from the subscriber of 090…. To get the gift, please send a message… to 8792."
When the sender did send a message, it cost VND30,000.
A MobiFone user was "attacked" with 1,000 calls and messages from many numbers relating to the use of service code 8733 operated by Dong Ha Company.
But Dong Ha said it was not responsible since it was just a service provider, not the caller or message sender, and did not have to apologize to victims. 
It too had been a victim of spam and fraud messages, it said, adding it has identified the senders but was unable to reach them.
Cellphone service providers and subscribers partly lay the blame for the problem on some SMS content providers who own service codes.
They send large numbers of lewd advertising messages from pre-paid numbers whose owners cannot be identified easily to make huge profits.
SMS content providers and telecom service operators have agreements on sharing profits derived from SMS messages.
Many members of the Game and Digital Content Providers' Club, an affiliate of the Vietnam Software Association, have asked the Ministry of Information and Communications to reconsider the regulations on profit-sharing and cooperation between content providers and telecom network operators.
A ministry official said March 16 the ministry has not received official complaints but it would take strong measures to crack down on scammers and protect cellphone users.
Some service providers like MobiFone and VinaFone said they would sever their links with some content providers if the problem cannot be resolved.
MobiFone said it would suspend its contracts with partners whose codes are used for defrauding subscribers.
Analysts and cellphone users wanted the ministry to strengthen oversight of pre-paid users to prevent spamming and fraud.