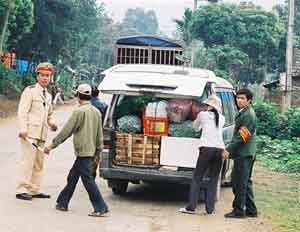 Authorities search the suspected vehicle for smuggled chickens
Smugglers have resumed trucking low-quality Chinese chickens across the border. Over a ton of chickens without quarantine certificates are trucked across the border every day.


In Quang Ninh, a province on the border with China, anti-smuggling agencies seized seven tons of smuggled chickens during May 26-31.
Tons of smuggled chickens escaped the notice of authorities until they were transported into Ha Noi.
At the Phu Dong toll booth on Gia Lam Street in Ha Noi, authorities seized a truck driven by Nguyen Van Ba, 47, of Lang Giang District in Bac Giang Province. The truck was transporting over a ton of smuggled chicken into Ha Noi and Ha Tay Province. The chickens were brought from China to Lang Son Province and then transported to Ha Noi, according to police.
In related news, the police in Quang Tri Province revealed yesterday that they had seized 70kg of chicken and destroyed it on the spot because it lacked quarantine certificates. The chickens were being slaughtered and processed on a bus with license number 74K-3395 owned by Tran Quang Thuan of Lao Bao in Quang Tri Province. Thuan said that after being mixed with spices and chemical substances, the chicken would be transported to Dong Ha Province for sale.