Skyrocketing prices of pork and chicken has prompted some people to illegally transport these animals into the country. The smuggling of the illegal meat is rampant at border crossings such as Tan Thanh, Cao Loc and Mong Cai, in the northern provinces of Lang Son and Quang Ninh.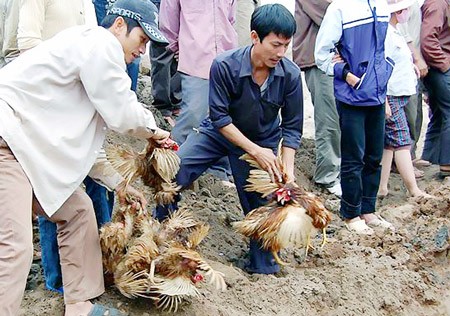 Health authorities destroy smuggled chicken as these diseased animals may transmit disease to other poultry within the country (Photo: SGGP)
The smuggling of pork and chicken is so complicated that many authorities hardly know that it is going on, as chickens are brought into Vietnam from China and kept in farms in the northern province of Lang Son.
After one or two weeks, the poultry will be transported into villages, such as Dinh Ke in the northern province of Bac Giang, where they will be 'fattened up' and later appear at Hanoi markets.
Moreover, to deceive consumers, market traders usually state that the poultry is a special kind named 'Mia'. However, Do Van Hoc, a farmer who breeds the famous chickens from his village in Duong Lam refused this, saying that the 'Mia' chicken has a special smell and a better taste.
Mr. Hoc said only chicken sellers and farmers can tell the difference between a 'Mia' chicken and illegally imported chicken from China.
People that smuggled diseased Chinese poultry also make a large profit. The animal is sold at VND20,000 in China, but will fetch VND40,000 in the northern province of Lang Son, and in some Hanoi markets it will be sold at over VND60,000. Moreover, sidewalk eateries and restaurants are eager to buy cheap poultry.
Despite the ban on the imports of Chinese poultry into Vietnam, farmers still find ways of purchasing the diseased chickens from China, and sell them for the Tet holiday when the consumption of pork and chicken is very high.
Hoang Van Nam, head of the Department of Animal Health, said that the illegally transported Chinese chickens have not been tested; consequently, they may pose a health risk for consumers and possibly transmit diseases to other animals within Vietnam.   
In addition, he said the local governments near border areas would be monitoring the situation. The seizure and destruction of diseased poultry will be carrying out if relevant agencies find any illegal transported chickens.