Before Tet holidays, rising demand for goods and big profits prompt traders to increase smuggling of Chinese-made goods through northern borders in Lang Son, Quang Ninh and Lao Cai provinces. This year, smuggling tends to decrease, thanks to strong measures taken by police, but remains unanticipated.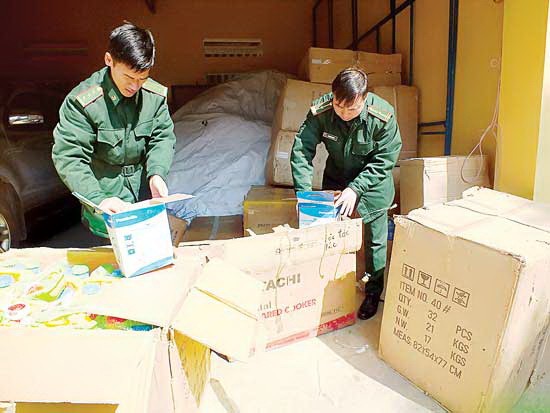 Tan Thanh Border Post's guards check smuggled goods seized at the border gate. (Photo: SGGP)
Prior to Tet holidays, smugglers not only smuggled essential goods such as: clothes, garments, footwear, and electronic appliances, but also forbidden goods like firecrackers, counterfeit money, cigarettes, fake alcohols, and foods with unclear origin. Especially, they use every sophisticated and vicious trick to cope with authorities.
With a long border of tens of kilometers from Tan Thanh Border Gate to Coc Nam Border Gate, Lang Son Province's Van Lang and Cao Loc districts are considered as hot spots for smuggling of Chinese goods. In addition, this area also has several trails and shortcuts for smugglers to take advantage of.
Senior lieutenant colonel Ninh Van Hop, a commanding officer of Huu Nghi Border Post in Lang Son Province, said that his post is responsible for a boundary of about 4 kilometers. However, it is very difficult for them to prevent smuggling because there are trail and shortcuts that lead to China's Nonghuai Market in Pingxing after passing a few mountain ridges. During peak time, there are up to 300-500 people carrying smuggled goods from China into Vietnam and around 200 motorbikes and cars use for transporting.
Meanwhile, at Tan Thanh Border Gate, the largest open economic zone in the northern border area, trade is humming with lines of container trucks cramming the border gate.
According to customs officers at Tan Thanh Border Gate, the border gate sees the highest amount of goods exported and imported at this time because consumption demand of both Vietnam and China strongly raises on the occasion of lunar New Year. Vietnam mainly exports fruits, farm produce, and seafood to China while importing many various kinds of goods from China.
At Tan Thanh Market, kiosks display all kinds of goods, including clothes, footwear, electronic products, cosmetics, medicines, and foods. Traders at Tan Thanh Market are both Vietnamese and Chinese. Although having owned two fabric and clothes stores in China's Po Chai Market, Tong, a Chinese trader, still goes to Tan Thanh Market for trading and seeking business partners every day.
Tong revealed without hesitation that all kinds of goods can be found at border area, even forbidden goods, such as: counterfeit money, firecrackers, swords, and stun guns as long as buyers have enough money. Quality and price are also diversified.
He also unveiled that big Vietnamese traders, nowadays, rarely go to China or border gate. All steps of the transaction, comprising of selecting goods, ordering, and paying are conducted via the Internet or phones. Even transporting goods from border to Lang Son Province or Ha Noi City, the hardest step, takes no sweat.
Lieutenant colonel Vu Quoc An, commissar of Tan Thanh Border Post, said that due to high demand and big profits, smugglers have used every sophisticated and aggressive trick to bring smuggled goods into the country.
Smuggled goods usually are gathered at trails near the border, and then are split into small package for easily carrying. At the right time, hundreds of porters will carry goods cross the border into the inland. Traffickers also place outguards to monitor and block anti-smuggling force and hire local residents to transport goods. Noticeably, porters are not only youngsters but also old people and kids. They even force porters to deposit money when they are hired to transport smuggled goods so if porters are caught they will dump goods or fight against police to get their goods back.
Border Command of Lang Son Province said that in order to prevent smuggling, border guards have to place obstacles and keep close watch on trails that are usually used by porters despite severe weather.
According to Mr. Hop, Huu Nghi Border Post has raided and tackled 24 warehouses contained smuggled goods and uncovered 354 cases of smuggling, of which, there were seven cases of firecracker smuggling with nearly 400 kilograms of various kinds of crackers.
However, he also said that current anti-smuggling measures are merely palliative. It requires measures to resolve internal issues and promote domestic production in order to prevent smuggling thoroughly in long term.