The smuggling of illegal goods across northern border gates in Vietnam has surged ahead of the annual Tet (Lunar New Year) holidays in February.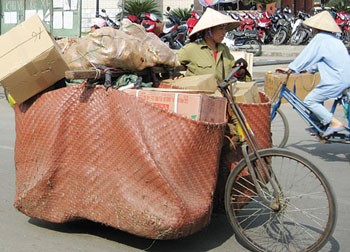 A transporter takes contraband goods from China across Vietnam's Lao Cai border gate in the eponymous province. Smuggling at northern border areas has spiked ahead of this year's busy Tet holiday season. (Photo: SGGP)
Authorities say thousands of Vietnamese traders have been arriving daily to pick up illegally imported products from China at Tan Thanh and Coc Nam border gates in Lang Son Province, Ka Long-Mong Cai border gate in Quang Ninh Province, and the Lao Cai border gate in Lao Cai Province.
Lang Son was earlier known as the "capital" of contraband. But since authorities began a recent crackdown here, smugglers have switched to other Chinese border gates like Mong Cai and Lao Cai.
Of the northern provinces that border China, the distance from Lao Cai to Hanoi is the longest. However, smugglers see the area as advantageous because of its railway and road systems, making it the new hotspot for illicit trade.
According to the province's steering committee on smuggling and fraudulent-trade prevention, Lao Cai now has a host of places where smugglers usually gather. In some areas, smugglers operate surreptitiously but at others, they make no efforts to hide their activities.
SGGP reporters recently observed hundred of 5-7 ton trucks arriving at the Lao Cai border gate to load contraband.
In addition to trucks, buses are also used to smuggle goods. A local resident named Dung pointed out a 12-seat coach that was reportedly used to transport smugglers and illegal goods all day.
The bus was allegedly used to drop off illicit transporters posing as regular passengers in front of the border gate. The "passengers" then walked to a nearby area to collect bicycles and vehicles which they used to transport illegal goods imported from China.
One such transporter named Minh said he could move three to four shipments to Vietnamese goods dealers each day, for which he was paid VND50,000-80,000 per shipment.
Minh said many transporters have received help from smugglers with procedures for becoming border residents to enjoy benefits from the Vietnamese Government's border-trade policies.
Tran Vu Hoang, head of the Customs Department at the Lao Cai border gate, said border residents are exempt from paying import tax if they buy goods worth less than VND2 million (US$108) from China.
The policy has created a loophole, however, whereby importers can evade taxes by simply having Chinese exporters divide packages into smaller sections. The importers then hire border residents to transport them into Vietnam.
While authorities are aware of the problem, they say there is currently nothing they can do about it, as it is technically legal.
Cracking down proves tough
Most smugglers only take advantage of the border-trade loophole to transport allowable goods, however.
For strictly prohibited products like firecrackers, guns, knives, swords, and animal viscera, smugglers use other means.
Nguyen Hoai Nam, deputy head of Lao Cai Province's Market Management Sub-department, said there are two main routes that such smugglers use regularly. One is along the Hong River and the other is along the Nam Thi River.
Water levels in the two rivers are currently quite low so transporters can easily wade across to transport their goods, he said.
Nguyen Thi Khang, head of the Lao Cai Animal Quarantine Sub-department, said the province now sees a huge number of animal organs imported illegally.
Smugglers mainly operate at night along the Nam Thi River, making their activities difficult to detect. They even set up tents to keep cages of contraband chickens and pigs while waiting to transport them to other provinces, Ms. Khang said.
After goods are imported into Vietnam, the most effective way to transport them to Hanoi is by train on the Hanoi-Lao Cai route. The contraband is then transported to central and southern provinces.
According to a railway official who wished to remain anonymous, at stations in Yen Bai and Lao Cai provinces, regular passengers make up only a small percentage of travelers. Most are smugglers, said the official.
And despite the fact that the trains are loaded with illegal products, authorities say the smugglers use sophisticated techniques to avoid being caught.
In 2009, Yen Bai Province Market Management Sub-department officials seized 121 containers of contraband worth VND2.5 billion (US$135 million) on the Yen Bai-Lao Cai railway route alone, said head of the department Phan Ba Hung.