Demand for many essential goods is soaring ahead of this year's Tet (lunar New Year), which has led to an increase in smuggling across the Cambodian border.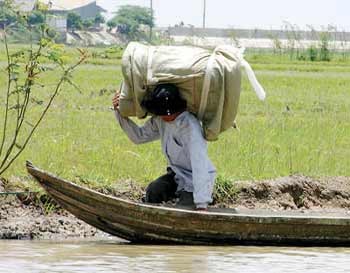 A transporter carries smuggled goods in a boat along Vinh Te canal in Tinh Bien District, An Giang Province. Smuggling activities along the Cambodian border have skyrocketed ahead of Tet this year. (Photo: SGGP)
A group of SGGP reporters posing as traders recently accompanied Tho, a smuggled goods broker, on a trip to An Giang Province's Vinh Nguon town. The community is considered a gateway for illegal products imported from Cambodia to be transported to Chau Doc town.
Along a 2km road next to the Hau River, the reporters saw dozens of parking lots for cars and motorbikes with license plates from Can Tho, Kien Giang, Soc Trang and Ho Chi Minh City.
Smuggled goods were transported relentlessly on the roads, smothering the area in dust and exhaust from vehicles.
Tho led the reporters past the Cambodian border-guard into Ta Mau market, about 100m away, without being asked to show any papers. Here, a "center" displayed numerous smuggled goods for sale.
The reporters observed products for sale including wine, beer, electronics, bicycles, and mobile phones from China, Hong Kong, Taiwan, and Japan to name a few.
Buyers simply select the goods they want, pay a deposit, and return to Vietnam to await their deliveries. Full payment is made only when the buyer receives all the goods they ordered.
After smuggled goods are transported to Vinh Nguon town, some are delivered to traders there, while the remainder is loaded onto buses or motorbikes for delivery to other localities.
On National Highway 91, which runs through An Giang Province, local residents and travelers often complain of being terror-stricken by the many speeding motorbikes carrying contraband goods. The vehicles travel extremely fast to evade authorities.
Commodities like tobacco, hard liquor, beer, and sugar are smuggled into Vietnam in large quantities, said Nh., a Can Tho province-based trader of illegal Cambodian goods.
Varieties of brandy like Remy Martin, V.S.O.P., and Remy X.O. Martin are among the items smuggled most from Cambodia since traders can earn high profits reselling them, Nh. said.
A bottle of Chivas 12, for instance, could be purchased for VND300,000 in Cambodia and sold for VND530,000 in Can Tho. A bottle of Red Label whiskey, meanwhile, can be purchased for VND170,000 and sold for VND250,000, he said.
Smuggling activities along the Cambodian border have become increasingly complicated with traders using sophisticated tactics to evade authorities, according to anti-smuggling forces in An Giang Province.
Last year, authorities uncovered 135 cases of smuggling totaling more than VND3.2 billion (US$184,000).
The provincial Customs House also found 131 cases related to illegal imports and exports worth over VND3.4 billion.
However, the actual volume of goods smuggled across Vietnam's southeast border with Cambodia is likely much higher, said representatives of provincial agencies.
Smugglers even set up stores to sell contraband near border areas, some local goods transporters said, adding that they operate under the knowledge of a powerful, high-ranking individual.
Asked about the issue, Colonel Huynh Van Tien, Commander of the An Giang Province Border Guard, said: "The smuggling situation here may be well-known by the agencies concerned; however, many times we have planned to crack down on smugglers but failed, since smugglers knew our plans in advance"