Over 90 percent of fishing boats in the central province of Quang Nam have not gone out to sea due to choppy waters and increased fuel prices.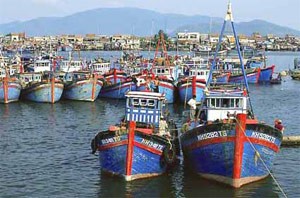 Over 90 percent of fishing boats in Quang Nam Province don't go out to sea due to increased fuel prices
Usually at this time of year all of the province's fishing vessels are out at sea, said Mr. Vo Van Nam, director of the provincial fishery department.
 
This year less than 10 percent have done so, he added.
 
Fuel prices have soared so sharply that fishermen can no longer afford to buy enough to power their boats, he continued.
 
The province currently has 5,000 fishing boats with a total capacity of 75,000 cubic meters, he said. One hundred ten boats have a capacity of 90 cubic meters or more. The province's fleet has the capacity to catch over 50,000 tons of seafood a year.
 
Since late February, prices for diesel and petrol have increased by VND1,000 - VND3,700 (US$0.06-0.23) a liter.