It was necessary for seasonal labourers or those with labour contracts lasting from one to three months to join compulsory social insurance, members of National Assembly's Standing Committee agreed yesterday.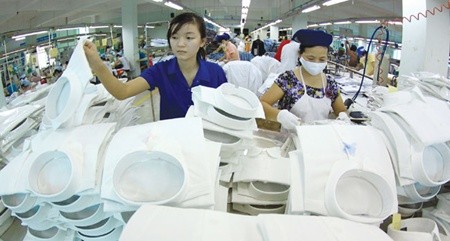 Labourers work at Tay Do Garment Joint Stock Company in Can Tho City. Seasonal labourers and those with short-term contracts should join compulsory social insurance plans for their own benefit (Photo: VNS)
Examining the draft revisions of Law on Social Insurance yesterday, lawmakers said that the move would help to expand the number of those benefiting from social insurance and ensure coverage for workers in the event they lost the ability to work.
Once joining compulsory social insurance, seasonal labourers and those with contracts lasting from one to three months could have their premium co-paid by themselves and their employers. As a result, they will become eligible for pensions in the event of retirement, death, sickness, pregnancy, work accidents and occupational diseases.
Chairwoman of NA Committee for Social Affairs, Truong Thi Mai, said that employers used labour contracts with terms of less than three months to avoid the obligation to pay social insurance for employees.
It was estimated that there are about 16 million labourers signing labour contracts but only about 10.8 million had joined compulsory social insurance.
Most of the remaining number had labour contracts lasting from one to three months and had not bought social insurance.
Part-time officers at communal and ward People's Committees, including those working for local social associations of women, the elderly, farmers or the Red Cross would be proposed to buy social insurance.
At present, there are about 229,600 part-time commune officers. They are not paid as State employees but only given allowance subject to local socio-economic development and local budgets.
According to the Government's proposal, part-time commune officers should join voluntary social insurance, implying that they would decide premium rates and terms of payment. The Government would subsidise the premium.
Mai from the NA Committee for Social Affairs said that if the revised law required part-time commune officers to buy voluntary social insurance, it would need to regulate premium rates and Government support would be less than 10 per cent.
She noted that 23 localities nationwide had supported part-time commune officers in joining voluntary social insurance.
However, according to the NA Committee for Social Affairs, which is in charge of assessing proposed revisions to the law, part-time commune officers should be subject to compulsory social insurance, at least for two categories of retirement and death.
The compulsory social insurance fee is for 22 per cent of the basic salary (VND1,150,000) and is used as a co-efficient to calculate salaries and allowances for State-employees.
Part-time commune officers would have 14 per cent of their basic salary paid by the State-budget and the other 8 per cent paid by them if they joined compulsory social insurance.
Mai added that since 2005, HCM City and central Da Nang City had applied compulsory social insurance to part-time commune officers.
Chairman of NA Legal Committee, Phan Trung Ly, said that it was difficult to calculate pensions for them in the case of sickness, pregnancy or occupational diseases because they worked part-time at ward/commune People's Committee and had other business to do outside.
Chairman of the Viet Nam General Confederation of Labour, Dang Ngoc Tung said that the expansion in the scope of social insurance had had positive effects.
He agreed with the proposal about voluntary social insurance for part-time commune officers.
"The premium should be based on their productivity, their paid allowance," he said.
Members of NA Standing Committee yesterday also discussed content relating to pension policies, timelines for paying social insurance and the inspection role of agencies over social insurance payments by people, organisations and enterprises.
According to the bill, the general director of Viet Nam Social Security and directors of its branches at the provincial level and head of its inspection teams would be able to decide fines for violators including those that delay or evade paying social insurance.
Veterinary law under
In the afternoon, the committee discussed the proposed veterinary law. The ordinance was approved by the National Assembly in 2004.
Deputies said it was an important legal basis for the prevention and control of animal diseases and epidemics, animal quarantine and slaughtering as well as state control of veterinary medicines and veterinary jobs.
However, they said the ordinance had some shortcomings regarding practical applications and long-term vision.
Members of the NA Standing Committee agreed that it was necessary to have a veterinary law. One aspect of the law project under discussion was the competence to announce the existence of epidemics.
Chairman of the NA Economics Committee, Nguyen Van Giau, said a law regulation that the chairman of the commune where the epidemic exists can declare an epidemic was not rational.
Giau said one of the conditions for announcing an epidemic was the availability of a diagnosis by a competent authority identifying the cause of the disease. Thus, appointing the commune's chairman to announce an epidemic was improper.
Chairman of the NA Office Nguyen Hanh Phuc suggested the responsibility be assigned to chairman of the province where the epidemic existed.
Deputies said that in the diagnosis and investigation of an epidemic, the project law did not regulate the responsibility of individuals and organisations deal with sick animals to inform veterinary agencies.
Deputies also discussed other contents of the law including veterinary jobs, compulsory slaughtering and culling sick animals.