"Socio-economic development in the Mekong Delta is facing hurdles, businesses are on hold, farmers unable to sell produce and several vital traffic projects lie incomplete from lack of capital shortage", overheard at a conference in Can Tho City on Thursday.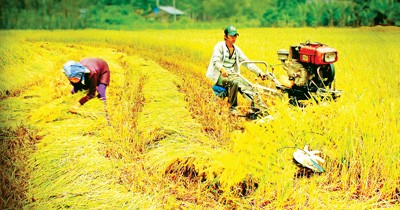 Farmers harvest rice in Dong Thap Province (Photo: SGGP)
The conference was hosted by the Steering Committee for the Southwest to review the socio-economic status in the Mekong Delta in the first half of the year and find viable solutions for the second half.
Among the participants was Deputy Prime Minister Vu Van Ninh along with representatives from ministries and local departments of the region.
Tran Thanh Man, secretary of the Party Committee in Can Tho City, said that agricultural production in the city has slowed down. In the first six months, the city's budget only reached 37 percent of its target.
From 9,000 small and medium businesses in Can Tho City, 600 have stopped operations and 150 have closed down, mainly due to unsold goods. Farmers too are unable to sell their farm produce, he added.
Nguyen Thanh Phong, secretary of the Party Committee in Ben Tre Province said that coconut prices have reduced by nine times what they were in late 2011 to fetch only VND10,000 per dozen now.
Plummeting prices have affected several households as more than 40 percent of Ben Tre's population depends on coconut as a means of livelihood.
Although the province gives coconut growers financial assistance, this is still short. He proposed that the Government assist them with an extra VND70 billion (US$3.3 million) and exempt the present three percent coconut export tax.
From another angle, Duong Thanh Binh, secretary of the Party Committee of Ca Mau Province, said that the Government Resolution 11 to curb inflation, stabilize macro-economy and ensure social welfare has resulted in several unfinished traffic projects in the delta region.
These incomplete projects include the Ho Chi Minh Road in Ca Mau and Highway 54 to connect Dong Thap, Vinh Long and Tra Vinh Provinces; upgrading of Highway 91 in Can Tho City; construction of Co Chien Bridge; and dredging of the Quan Chanh Bo Canal.
If these projects are not completed, more money will go into reviving them, he said.
According to the Ministry of Transport, implementation of Resolution 11 has shrunk capital for ministry projects. As a result, progress on several traffic projects has been extended until after 2015 to focus on urgent projects required to be built in 2012 or 2013.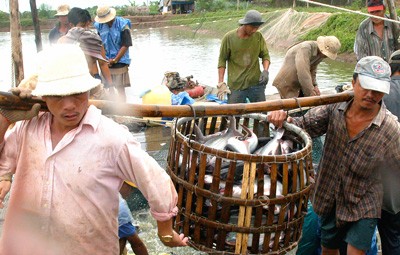 Pangasius breeders in An Giang Province still face difficulties, partly due to lax connectivity in the Mekong Delta (Photo: SGGP)
The ministry has proposed to the Government to allocate more capital to finish the incomplete projects by offering lucrative policies to lure investors.
Several delegates said that farmers in the delta have met with many difficulties as the connectivity in the region is still insufficient.
The Steering Board of the Southwest has completed a project on the delta's connectivity in consultation with the State, scientists, businesses and farmers. However, the committee has not received any response from related ministries and departments.
Deputy Prime Minister Vu Van Ninh prompted the Ministry of Planning and Investment to work with the committee to submit a project on connectivity in the Mekong Delta. The committee should have specific mechanisms and policies to develop the region and Phu Quoc Island.
On their part, the Government will continue to give capital and interest rate preferences to exporters and businesses and provide credit assistance to farmers in the delta.
From now until year's end, they Government will continue to organize conferences to discuss and resolve problems in traffic infrastructure, irrigation, education and training, human resources and other matters to boost socio-economic development in the Mekong Delta.