The first partial solar eclipse of the year, set to occur on January 15, will be visible from some parts of Vietnam, according to the Geophysics Institute of Vietnam's Academy of Science and Technology.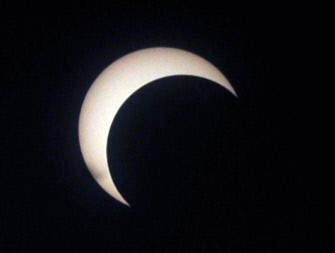 The moon begins to obstruct the view of the sun from earth in Colombo on January 15, 2010. (AFP Photo)
This year, the annual eclipse is expected to be the longest in duration since1992.
People in Vietnam will also have an opportunity to observe Venus during the event, said the institute.
The maximum obscuration of the sun will be noticeable in the northern mountainous province of Lai Chau, where up to 74.9 percent of the sun will appear dark at 5:46 pm. The eclipse will start at 2:11 pm and end at 5:5 pm in the province.
In Hanoi, people can observe the eclipse with solar obscuration of up to 67.3 percent at 3:48 pm.
In Ho Chi Minh City, a maximum obscuration of up to 38.1 percent will be visible at 3:41 pm.
The partial eclipse will also be visible in most parts of Africa, Eastern Europe, the Middle East, Asia, and Indonesia.
The last solar eclipse visible in Vietnam was on July 22, 2009.