Major Nguyen Van Bay, now 87, transported Kachiusa rockets from the North to battlefields in the South by sea along the Ho Chi Minh trail.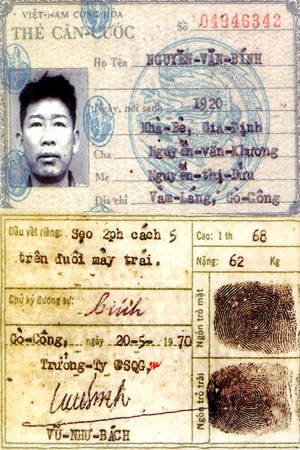 Nguyen Van Bay's fake ID card
Narrating his heroics from 40 years ago, he recalls: "I transported weapons and military equipment … for nearly 15 years but the trip during which my comrades and I took the rockets to the southern battlefields by fishing vessels in 1970 was memorable."

"Chosen for this special trip were all soldiers from the South. We were requested to change our appearance to look like weather-beaten sailors."
"So the first thing we did every day before the trip was to expose ourselves to the scorching sun to get a tan. We also practiced drawing up nets so that our hands were hard and full of calluses."

"We began to roll our own cigarettes instead of smoking filter cigarettes to yellow our fingertips and the heavy smell lingered in our hair and clothes. We looked exactly like Southern fishermen of four decades ago.

"In August we boarded two vessels belonging to the Army Corps 371 which were disguised as fishing boats. In their holds were more than 10 tons of weapons, including the Kachiusa rockets, concealed under large canvas sheets. Fish and ice were laid on top above a thick layer of rice husk in the middle.

"Each of us was given a fake ID card. We were also given some license plates for the two vessels and related registration papers. Though all of them were fake, they looked genuine.

"It was a very long trip for all of us. There were days we didn't see any patrol boats but on others the sea was heavily patrolled. We were repeatedly stopped and asked to produce our papers. Of course, we were all afraid of being discovered, but luckily we got away every time."

"After nearly a month at sea, we finally arrived at Vam Lung Wharf on September 21. The weapons and rockets were then carried to shore. We had completed our mission successfully. The days of stress were over and no words could describe our joy."

Two most valuable things

Bay opens a drawer and takes out an iron box. Inside are his two most prized possessions – the fake ID card given for the mission and a photo of the 25 soldiers entrusted with transporting the Kachiusa rockets. They were with late Prime Minister Pham Van Dong at Van Hoa base in Quang Ninh Province a few days before leaving for the South.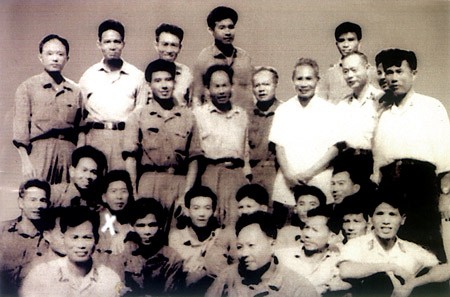 A photo of Nguyen Van Bay (marked X) and his comrades with late PM Pham Van Dong. The photo was taken a few days before they left for the South in 1970, masquerading as fishermen to carry rockets by boat along the Ho Chi Minh Trail. 
Pointing to the photo of a middle-aged man on the ID card, Bay says: "It is a photo of me, but I looked a few years older. When taking our photos, the photographer drew a mustache and some wrinkles on our faces to make us look older and like weather-beaten fishermen."

Bay wishes to donate the ID card and photo to the museum.

"Many of the soldiers in the photo did not survive the war. The rest have a foot in the grave. No one can tell younger generations about the legendary Ho Chi Minh Trail at sea. Such stuff, if kept in the museum, will give younger generations some idea about the trail and inspire their patriotism," he said.