Dau Ngoc Hung, the sole survivor from the ill-fated Vinalines Queen Ship that sank off the Philippine coast on December 25, arrived at Noi Bai International Airport in Hanoi at 6:40pm on Wednesday.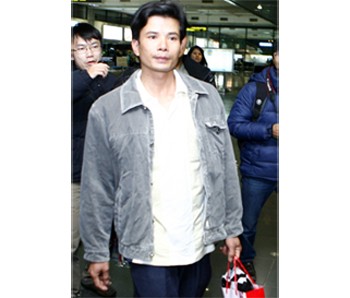 Dau Ngoc Hung, the sole survivor so far from the sunken Vinalines Queen Ship, arrives at Noi Bai International Airport in Hanoi on Wednesday (Photo: SGGP)
At 8:30pm on the same day, the Vinalines Shipping Company hosted a press conference and announced latest available information on the missing vessel.
Hung told of the last moments before abandoning the ship. When the ship began to lean, the captain of the ship spoke to all crewmen on board to immediately move to the deck, wear lifejackets and lower the lifeboats.
Soon after that the ship overturned towards the starboard side and quickly sank. Hung was on the port side of the vessel which was still afloat for a short while before the entire ship went down into the sea.
Hung managed to keep his head above water, while clinging on to a float. He said that he felt severe panic and the huge waves engulfing him did not allow him to look for his fellow crewmen. The float he was clinging onto finally overturned but he was fortunate to find a life raft with food and water, which helped him to stay alive for five days at sea.
At the press conference, some questions like why cell phones of some crew members were still continuing to ring remained unanswered.
Representative of Vinalines said that they are trying to seek conclusive answers, also asking for further assistance from Interpol.
There is information that prior to the ship capsizing, its captain had spoken to the Vietnam Marine University asking for assistance in handling a leaning vessel. A Vinalines representative said they would check on this information and affirmed that the captain was highly trained with three years of experience.
As to the question why the vessel didn't send any SOS or Morse code signals despite being fitted with modern hi-tech radio equipment designed to automatically send out emergency signals, Vinalines said that marine experts would study these details thoroughly.
According to Vinalines, the sunken Vinalines Queen Ship was the biggest loss they have faced and total damages have still to be calculated.
The company is continuing search and rescue operations as per instructions of Transport Minister Dinh La Thang, to find the remaining 22 missing crewmen. There is still some hope, they felt.
Related articles:
No signs of Vinalines Queen ship found at sea
Search for missing Vinalines Queen Ship continues
Vinalines Queen Ship sinks, one rescued, 22 missing