Flooding due to heavy rains took place yesterday along some riverbanks and Ky Dong Street.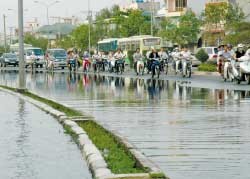 Flooding in Nguyen Huu Canh Street
Flood levels also reached 50-60mm in Hoc Mon and Cu Chi districts as well as 20mm in Tan Binh.

The Southern Hydro-meteorological Forecast Center held a meeting and affirmed that the heavy rains were out of season.

The air stream has weakened over the Northern and Central provinces recently increasing temperatures by 2-3oC with average temperatures between 17-25oC.
The regions will be warmer in the next few days with average temperatures between 22-36oC, said an official from the National Hydro-meteorological Forecast Center.