On December 23, the inauguration ceremony of Son La Hydro Power Plant was held in the presence of Prime Minister Nguyen Tan Dung, former Party General Secretary Nong Duc Manh, Vice Chairwoman of the National Assembly Tong Thi Phong, Deputy Prime Minister Hoang Trung Hai and representatives of ministries, localities and residents of Son La, Lai Chau and Dien Bien Provinces.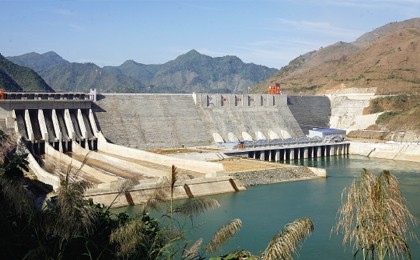 Son La Hydro Power Plant (Photo: SGGP)
The Son La Hydro Power Plant, the largest of its kind in Vietnam and Southeast Asia, was inaugurated three years ahead of schedule in Son La Province.
Built in Muong La District, the plant has six turbines with a total capacity of 2,400MW and will generate more than 10 billion kWh for the national grid annually, divert floodwater in the rainy season, supply water for domestic use in the dry season, and help boost socio-economic development in the north-western region.
The first generator was connected to the national power grid in December 2010; five years after construction work began. In September 2012, the sixth generator was linked and the project was completed in November 2012.
At the inauguration ceremony, Prime Minister Nguyen Tan Dung highlighted the significance of the project, which was designed and constructed by Vietnamese engineers and workers. He noted it was completed three years ahead of the deadline.
He thanked the local administration and people for their efforts and whole-hearted support, allowing the project to be implemented before time.
More than 20,000 ethnic minority households in Dien Bien, Son La and Lai Chau Provinces had to move to new resettlement areas where local administration attempted to create conditions for the displaced to stabilize their lives.
In the course of project implementation, Son La had successfully carried out migration and resettlement of locals.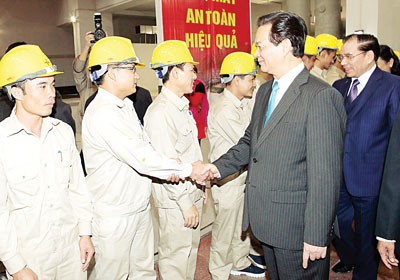 Prime Minister Nguyen Tan Dung (2nd, R) congratulates engineers, construction workers at Son La Hydropower Plant (Photo: SGGP)
Son La has completed the task of moving 12,584 households out of the flooded area of Son La hydropower reservoir. Households from three districts, 16 communes and 169 villages were moved to 221 temporary resettlement and 38 new resettlement areas.
According to the Prime Minister, the project has been done mostly with domestic resources and entirely designed and constructed by Vietnamese engineers, with professional foreign supervision. The imported equipment accounts for 10 percent of the entire project.
The PM also praised investors and design consultants for applying leading edge global technology to the plant's construction.
He asked Electricity of Vietnam Company, the main investor of the plant to use lessons from the Lai Chau Hydro Power Plant in the nearby province.
He also asked the administrations of Son La, Dien Bien and Lai Chau Provinces to allocate production land, devise suitable economic development programs and generate jobs for displaced people in the resettlement areas.
Prime Minister Nguyen Tan Dung said that Son La must pay special attention to the stability of the lives of immigrant households, make sure people have a stable life, and the opportunity and conditions to develop in their new abodes.
When in operation, annual sales of Son La Hydropower Plant will reach VND15,000 billion.