The Son La Hydropower Plant is expected to supply its maximum generator power to the national electricity grid by 2012, Prime Minister Nguyen Tan Dung said at a celebration of the first 400MW turbine's official operation on Jan. 7.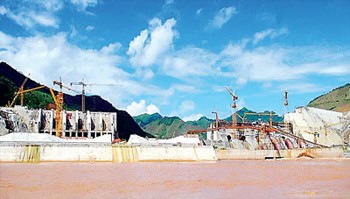 Son La Hydropower Plant enters the completion phase
Addressing the event, PM Dung stressed the significance of early operation of the first turbine and bringing the plant into operation two years ahead of schedule, saying this was not only profitable for the country but also ensures a steady supply of electricity for production and people's life, especially in the dry-season months of 2011.
He attributed the achievements to the efforts of local authorities, support from thousands of local people who left their home to make way for the project, as well as the tireless efforts of thousands of workers at the plant.
The Son La hydropower plant is not only the largest of its kind in Vietnam and Southeast Asia, but also the first large-scale project designed, constructed, manufactured and installed by Vietnamese engineers and workers, he said.
"This shows great strength and a high degree of development in management, design, manufacture and installation by the local workers," the PM said.
The Son La Hydropower Plant is designed to have a total capacity of 2,400 MW with six turbines, each of 400 MW. It is laid on the second step of Da River, between the Lai Chau hydropower plant upstream and the Hoa Binh hydropower plant downstream.
The project is located in Muong La district, in the northwestern province of Son La , with its reservoir in several districts in Son La, Dien Bien and Lai Chau provinces.
Once completed in late 2012, the plant will provide over 10.2 billion kWh of electricity for the national power grid each year, contributing to the socio-economic development of the whole country and especially the northwestern region.
The second turbine of the Son La plant will be installed on Jan. 15 and preparations for the third turbine will be made two days later, said Director Nguyen The Trinh of the Vietnam Lilama Corporation's Lilama joint stock company 10 branch in Son La province.
The branch aims to put the second and third turbines into operation on May 10 and October 20, respectively, while the fourth turbine is scheduled to be installed in late October this year.