Party General Secretary Nong Duc Manh has asked the northern mountainous province of Son La to pay special attention to training local officials who are ethnic minority people.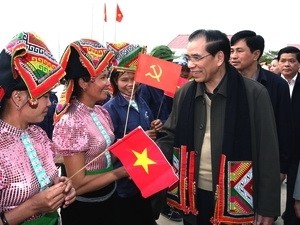 Party General Secretary Nong Duc Manh visits residents in the Huoi Hao resettlement area of Muong Bu Commune in Muong La District on Juanary 18
While meeting with the provincial Party Committee during his January 18-19 visit, the Party leader urged the province to focus on rapid and sustainable development and environmental protection as well as developing its processing industry, forestry projects, cattle breeding and aquaculture.
The province should synchronously combine the resettlement of people with creating new rural areas with a focus on preserving the cultural identities of ethnic groups and the characteristics of the north-eastern ethnic people, he said.
General Secretary Manh praised the province for its socio-economic achievements over the past few years, with its high economic growth and its effective resettlement program.
According to the provincial Party Committee, Son La province's average economic growth in the 2006-2009 period reached 14.07 percent, 14.36 percent in 2009. Its per-capita income was VND10.5 million  (USD583 ) per year, higher than the average level for the mid-land and mountainous region.
Regarding the resettlement of local people moved to make way for the Son La Hydropower Plant, by the end of 2009, Son La province had re-housed more than 11,600 households, accounting for 93.3 percent of the total number and the remaining work will be completed in the first quarter of this year.
Over 96 percent of communes and wards in the province now have access to primary education. All the communes have nursery, primary and secondary schools while 203 out of 2,006 communes also have health centers.
The poverty rate has also been reduced from 46 percent in 2005 to 29 percent in 2009 and nearly 81 percent of all households have access to electricity and 74 percent clean water.
On January 18, General Secretary Manh visited and presented gifts to employees working at the Son La Hydropower Plant construction site and residents in the Huoi Hao resettlement area of Muong Bu Commune in Muong La District.
The first turbine in the plant is expected to be operational by December 2010, two years ahead of schedule.