Police in the southern province of Dong Nai have opened an investigation into the expense accounts of the Sonadezi Company in Long Thanh Industrial Zone, in order to determine where the company deployed billions of dong collected from factories for wastewater treatment.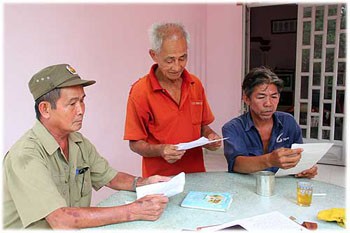 Residents of Tam An Commune in Long Thanh District of Dong Nai Province submitting petitions to an official (L) (Photo: Thanh Nien)
Meanwhile, the Institute of Natural Resources and Environment are analyzing wastewater samples taken from the company's reservoir as well as the Dong Nai River. The results will be out within the next 45 days to conclude the level of wastewater being dumped into the river by the company.
Sonadezi Company is suspected of discharging untreated wastewater into the Dong Nai River for the past several years, which has only just come to light this month, by police officials under the Ministry of Public Security.
Related articles:
Authorities lax, while Sonadezi pollutes
Sonadezi Company fleecing other enterprises
Untreated wastewater polluting farmland
Company caught polluting Dong Nai River