SGGP Newspaper has enough gathered information to know that Sonadezi Company has been extracting billions of dong from companies in Long Thanh Industrial Zone on pretext of treating their wastewater, while it is simply releasing the untreated wastewater straight into the Dong Nai River.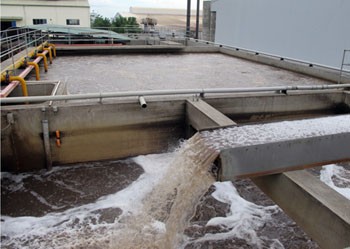 Wastewater is first treated at a company plant before release into Sonadezi treatment plant (Photo: SGGP)
As per government by-laws, all companies in the industrial zone are required to treat their wastewater to meet level A, B or C, with A level considered the most clean. Companies must meet the minimum requirements of level C before draining their wastewater out of their plants. Hence they use the industrial zone wastewater treatment plant, which is run by Sonadezi, who has been charging them.
A director of the Lien Minh weaving and dyeing company said that as per Sonadezi company calculations, the volume of wastewater discharged by a company accounts for 80 percent of the total freshwater consumption by the company in a month.
Hence if Lien Minh consumes 10,000 cubic meters of water, its wastewater will be 8,000 cubic meters. With the treatment fee set at US$0.32 per cubic meter by the Sonadezi company, Lien Minh will pay Sonadezi VND50 million ($2,560) each month.
Lien Minh company pays VND70 million a month for wastewater treatment. Added to this are labor and operating costs which brings the total expenditure for Lien Minh to about VND150 million ($7,000) each month.
Other companies in the industrial zone like Ajinomoto and Samill Vina have to pay VND300-400 million ($19,000) a month to the Sonadezi company.
On an average, each company pays Sonadezi VND100 million a month. 65 companies in the zone, all collectively pay Sonadezi VND6.5 billion ($310,000) a month for treatment of their wastewater.
Nguyen Thi Hien, a representative of KCC Vietnam says her company pumps industrial water into tanks that transport it outside the industrial zone for treatment. Only household wastewater is treated at the Sonadezi plant.
After treating the wastewater to level A, it is pumped into tanks and after a check by Sonadezi staff, it is released into the treatment plant reservoir. KCC Company is paying Sonadezi VND6 million for this treatment each month.
SGGP reporters wishing more information were refused by Sonadezi leaders and staff and were not permitted to attend meetings of Dong Nai Province authorities.
Yesterday afternoon, 43 households submitted their written complaints and demanding compensation from the Sonadezi Company for the loss and damage they have incurred for the last five years. 
Related articles:
Untreated wastewater polluting farmland
Company caught polluting Dong Nai River