The Electricity of Vietnam (EVN) held a ceremony to mark the operation of the first turbine of Song Tranh 2 hydropower plant in Tra Doc commune, Bac Tra My district, Quang Nam province on Jan. 7.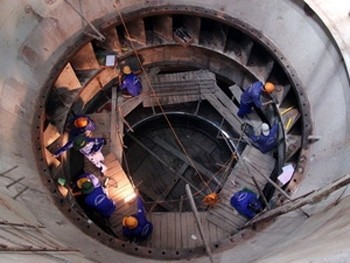 The Song Tranh Hydropower Plant's first turbine operation joins the national gird on January 7
The operation of the first turbine to join the national grid after four years of construction has helped ensure the supply of electricity and water for agriculture, said Deputy Prime Minister Hoang Trung Hai.
He added that it's necessary to ensure labour safety as well as boost progress of the project to complete the construction of Song Tranh 2 power plant in June, 2011.
The hydropower plant has two turbines with a total designed capacity of 190MW and is expected to provide 679.6 million kWh per year.