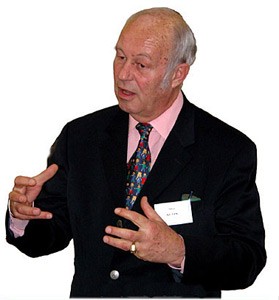 SOS Children's Village President Helmut Kutin.
Helmut Kutin, president of the SOS-Kinderdorf International, was awarded today the Friendship Medal by the Ministry of Labor, Invalids and Social Affairs. Attending the award-giving ceremony, Vice State President Truong My Hoa personally gave the medal to the president.
After the ceremony, the vice state president highly praised Helmut Kutin's large contribution to children who have difficult backgrounds.
So far, SOS-Kinderdorf International has opened twelve villages including nine hostels, twenty kindergartens and high schools and one vocational school in twelve provinces. It has also supported more than 3,000 orphans 
In response, Helmut Kutin said that it was his honor to receive the noble prize from the Vietnamese government. He also said that the SOS Children's Villages performed well because of the government's great supports.
He informed that SOS-Kinderdorf International will help Viet Nam to carry out new projects in Dien Bien Province.
Having worked as president of SOS-Kinderdorf International since 1985, Helmut Kutin has had much great contribution to the organization.
Helmut Kutin grew up in an SOS Children's Village himself and later on played a substantial role in organising the work of SOS Children's Villages in Asia. As one of Hermann Gmeiner's closest co-workers, he was elected to succeed him as President of SOS-Kinderdorf International in 1985.

Helmut Kutin was born in Bolzano (Italy) in 1941. Following a family tragedy he was admitted to the world's first SOS Children's Village in Imst (Austria) in 1953.

Later he moved to the SOS Youth House in Innsbruck. He graduated from high school and enrolled as a student of economics at Innsbruck University.
Following lengthy discussions with Hermann Gmeiner he decided in 1967 to give up his work in the field of tourism and as a tutor, and he took on his first assignment for SOS-Kinderdorf International, namely the construction of the first Vietnamese SOS Children's Village in what is now Ho Chi Minh City.
In 1968 he was appointed director of the village, which at the time was the biggest SOS Children's Village in the world. He subsequently set up and supervised further SOS Children's Village facilities in Vietnam before he had to leave the country one year after the end of the war, in 1976.
In response to his outstanding achievements for SOS Children's Villages, Helmut Kutin was appointed SOS-Kinderdorf International's representative for Asia in 1971. It was thanks to his pioneering work that over fifty SOS Children's Villages and another fifty supporting facilities were built there within a little more than a decade.
Other major achievements include the resumption of SOS Children's Village work in Vietnam in 1987 and the opening of the first two SOS Children's Villages in China in the same year.
In 1985 Helmut Kutin was elected to succeed Hermann Gmeiner as President of the umbrella organisation SOS-Kinderdorf International and thus became the senior representative of SOS Children's Villages worldwide. He was confirmed in office at the elections held 1988, 1993 and 1998.
Under the guidance of Helmut Kutin, more than 150 SOS Children's Villages have been built around the world. Since the opening of the borders to Eastern Europe and Central Asia, the main thrust of the SOS Children's Village development effort has been in those countries.