The South African and Vietnamese relationship holds tremendous potential for growth, said South African President Thabo Mbeki, who began his first official visit to Viet Nam, on Thursday.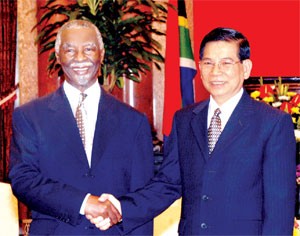 President Nguyen Minh Triet ( R) welcomes his South African counterpart Thabo Mbeki in Ha Noi on May 24
Holding talks with Vietnamese President Nguyen Minh Triet in Ha Noi, President Mbeki expressed wish to strengthen the traditional friendship and multifaceted cooperation with Viet Nam under the spirit of the "Joint Statement on Partnership for Cooperation and Development" signed by himself and the then Vietnamese PM Phan Van Khai in November 2004.

The South African leader affirmed that his country supported Viet Nam's bid for a seat on the UN's Security Council for 2008-09 term as a non-permanent member. He also revealed a decision to admit that Viet Nam's economy is run under market regulations.

For his part, President Triet thanked the South African people and President Mbeki for their support to the Vietnamese people in the past struggle for national liberation and the present national construction cause.

He affirmed Viet Nam constantly implement the external policy of diversification and multilateralization of international relations for peace, cooperation and development. "Viet Nam attached importance to strengthening and developing its relations with traditional friends in Africa, including South Africa," he said.

The Vietnamese leader applauded South Africa's initiative to join Viet Nam and Ghine Conakry in tripartite cooperation in agriculture.

The two Presidents' talks focused on ways to expand relations in economic, trade, investment and foreign policy by working together through the United Nations and the Non-Aligned Movement.

After the talks, the Presidents witnessed the signing of a cooperation agreement between the two governments a treaty on visa exemptions for diplomatic and official passport holders, and a memorandum of understanding on partnership forum.

At a press conference held after the Presidential meeting, the Vietnamese leader said Viet Nam is eager to share its experiences in agriculture development and poverty alleviation with South Africa.

President Mbeki paid a courtesy visit to legendary General Vo Nguyen Giap in the afternoon.