The Korean Human Resources Development Organization will administer Korean language tests to Vietnamese workers who will go to South Korea to work beginning this year.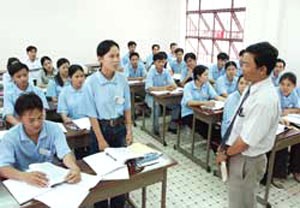 Vietnamese workers study Korean language to prepare for a language test before going to South Korea to work
The tests were previously organized by the department, which grants employment permits, in cooperation with the Viet Nam's Ministry of Labor, Invalids and Social Affairs.
 
South Korea will no longer limit the number of examinees, but it will limit the number of approved choosing those with the highest grades.
 
The test fee will be reduced considerably.
 
South Korea plans to employ 132,000 foreign workers this year, 60,000 of them will be overseas Korean, according to a report by South Korea's Human Resources Committee.
 
According to South Korean law, foreigners who want to go to South Korea to work must have a Korean language certificate.
More than 10,000 Vietnamese went to South Korea as guest workers last year, double the previous year's tally, according to the Center for Overseas Labor.
Viet Nam has far more guest workers in South Korea than any other nation – Thailand and the Philippines were a distant second with around 5,000 each last year.