Local governments in the southwestern region have done well to raise Khmer people's living standards, said the Southwestern Region Steering Committee at a meeting in the Mekong Delta city of Can Tho on January 9 to review achievements in 2012 and work orientation for 2013.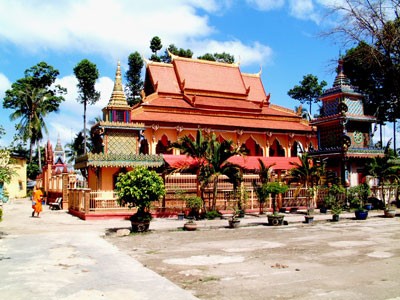 A Khmer pagoda in the Mekong delta province of Soc Trang (Photo: U. Phuong)
According to the committee, local governments have created strong and effective policies. They focused on building infrastructure in 287 communes and villages at a cost of VND110 billion (US$5.2 million); reconstructed 12,000 dilapidated houses; financially supported families on the poverty line with VND10 billion ($480,066) and gave more than VND20 billion ($960,133) to resettlement families.
Bui Ngoc Suong, deputy head of the committee, said every year the ratio of poor households has reduced by three percent and the percentage of Khmer students increased year-on-year.
In addition, stable political and socioeconomic conditions and growth of solidarity between people has created a good and healthy environment for living and learning.
The region will try to implement effective policies and eliminate hunger, reduce poverty, create literacy programs and find measures to raise education and living standards.