The Ministry of Agriculture and Rural Development said that the Mekong Delta has finished sowing more than 300,000 hectares of the summer-autumn rice crop.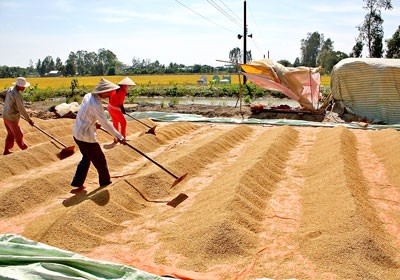 Farmers drying rice harvested in the winter-spring crop (Photo: SGGP)
The Mekong Delta plans to cultivate 1.68 million hectares of this crop, with expected productivity of 5.5 tons per hectare and output of 9.3 million tons.
However, severe water shortage and increased salt intrusion remains a hindrance, while diseases and insect attacks on standing crops may lower or damage rice production.
The Ministry of Agriculture and Rural Development has instructed the Department of Cultivation and local departments of agriculture and rural development to keep a close eye on weather and disease conditions. They should also dredge canals for better access to irrigation water.
According to the Vietnam Food Association, businesses have exported 906,173 tons of rice since the beginning of this year, bringing in about US$410 million revenue.