President Nguyen Minh Triet was given a State welcome ceremony on his arrival at the El Pardo Palace in the capital city Madrid at 10:30 am on Dec. 14.
At a reception held following the ceremony, Spanish King Juan Carlos warmly welcomed President Triet's State visit to Spain, describing it as an important landmark in the two countries' friendship and cooperation.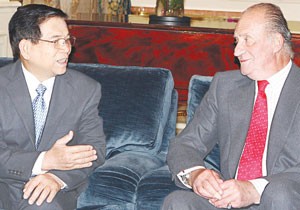 Spanish King Juan Carlos (R) receives Vietnamese President Nguyen Minh Triet in Madrid on Dec. 14, 2009 (Photo: Vietnam News Agency)
The King said he believed with both sides' wish and determination, the Spain-Vietnam friendship and cooperative relations will develop in various fields in the future.
President Triet expressed his delight at his first visit to Spain and thanked the King, the Queen and the Royal Family of Spain for their respect and sincere welcome.
The Vietnamese State leader took the occasion to thank Spanish King Juan Carlos, its Government and people for their assistance to the Vietnamese people to overcome the aftermath of typhoons Ketsana and Mirinae.
Following the visit to Vietnam by Spanish King Juan Carlos and Queen Sofia in 2006, the multifaceted cooperation between Vietnam and Spain recorded outstanding developments especially in trade exchange, said President Triet.
He went on to say that both sides have paid attention to promoting bilateral cultural and educational cooperation through teaching Spanish in Vietnam and the exchange of the two countries' art troupes.
The Vietnamese President highlighted Spain's development assistance to Vietnam which helped improve its people's socio-economic life and thanked the Spanish Government for its continued aid to the nation from 2009-2012.
On the afternoon of Dec. 14, President Triet met with Madrid Mayor Alberto Ruiz-Gallardon who presented him a Golden Key to become an honorable citizen of the city.
On the evening of the same day, King Juan Carlos and his Queen hosted a State banquet in honor of President Nguyen Minh Triet, his wife and his entourage.
Also on this occasion, on Dec. 14, State Auditor General Vuong Dinh Hue held talks with President of the Spanish Court of Audit Manuel Nunez Perez where both sides shared experiences and achievements in the auditing field to further enhance the relationship between the two agencies.