Mr. Nguyen Hoang Kinh was taken ill after finishing his 116th newsletter in May. With a stroke leaving him bedridden, Mr. Kinh, born in 1926, an active person who is interested in translating Spanish documents into Vietnamese, feels uncomfortable. He promised to continue work on 117th bulletin because newsreaders need to hear as soon as possible when his colleagues from Vietnam-Cuba Friendship Association entered his hospital room.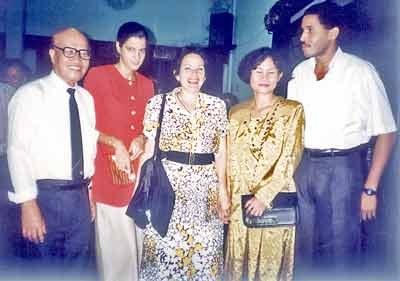 Mr. Nguyen Hoang Kinh (1, L) and his Cuban friends at the Cuban Independence Day ceremony (Photo:SGGP)
Being one of the first 21 Vietnamese fluent in English and French in the North, he was sent to Cuba to learn Spanish as diplomat in 1961. Because he spent many years in Cuba, he loves Latin America countries a lot. He translates documents on Cuba, including Fidel Castro's talks and hot news of the beloved country is not only his duty but love for the distant country in Latin America.
Once, he fell seriously sick but managed to attend at a meeting. Victories of the left-wing campaigns of these countries helped him recover, he explained
He spent days and nights translating the 97th newsletter, which has a picture of President Hugo Chavez of Venezuela, President Juan Evo Morales Ayma, of Bolivia, and former President Fidel Castro of Cuba, who are smiling at the signing ceremony of trade treaties in Latin American countries. The three leaders are allies and share a left-wing political outlook.
Mr. Kinh is very interested in translating Nidia Diaz's, "It's high time to claim the American continent back" and Casto's talks.
Instead of translating to earn more money to add into his tiny pension, he still works on a bulletin. Although he uses an old type writer, the bulletin has come out regularly for 14 years.
He worked as hard as a studious bee to bring news to old veterans who highly value his efforts. Being one of founders of the association, Mr. Kinh always desires to make Vietnamese readers understand the United States' irrational embargo on Cuba, widening the readers' knowledge of Cuba's just cause.
Mr. Kinh has spent all his life on activities to support Cuba. The Cuban government presented him a Friendship Medal in 1997 for his work. His colleagues all expect him to recover to continue the work.