Viet Nam always attaches importance to special relations with Laos and to fostering those ties, Communist Party of Viet Nam General Secretary Nguyen Phu Trong said yesterday.
Comrade Nguyen Phu Trong, who is also National Assembly Chairman, made the statement in Ha Noi while receiving Cheuang Sombounkhan, Minister-cum-Chief of the Lao Government Secretariat.
The Vietnamese Party leader expressed his joy at the development of solidarity with Laos, the efficiency of which was due to the remarkable contributions of the Government offices of the two countries.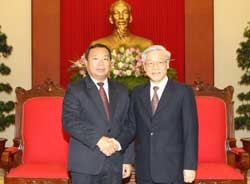 Party General Secretary Nguyen Phu Trong (R) receives comrade Cheuang Sombounkhan, minister-cum-chief of the Lao Government Secretariat.
He asked the two offices to boost exchange of information and experience and to co-ordinate to implement agreements reached at the 33rd session of the Viet Nam-Laos Intergovernmental Committee.
He asked Cheuang, who is also Secretary of the Lao People's Revolutionary Party Central Committee, to convey his best regards to Lao Party General Secretary and State President Choummaly Sayasone.
Cheuang expressed thanks to Viet Nam for its valuable assistance to Laos, both in the past and at present.
He expressed his belief that under the leadership of the Communist Party of Viet Nam, the Vietnamese people would continue to rapidly and sustainably implement their national renewal process and build the nation into an industrialised country.
He affirmed that the Lao Party, State and people were determined to develop the traditional friendship, special solidarity and comprehensive co-operation between the two countries.
Cheuang was leading a delegation of the Lao Government Secretariat and Prime Minister's Office on a working visit to Viet Nam.
During a meeting with Prime Minister Nguyen Tan Dung yesterday, Cheuang briefed the Vietnamese leader on outcomes of the meetings between leaders of the Vietnamese Office and the Lao Secretariat, during which they signed a memorandum of understanding on co-operation focused on raising the capacity of Lao Prime Minister's Office staff.
PM Dung said the results would contribute to the fine traditional friendship between the two countries.
He expressed his hope that the two sides would enhance their co-operation in economics, defence and security.
PM Dung asked Cheuang to convey his greetings to Lao Prime Minister Thongsinh Thammavong.
Cheuang underlined the significance to his country's development of co-operation projects with Viet Nam, especially to their traditional friendship