In Binh Thuy District of Can Tho City in the Mekong Delta, the slow moving construction of a Sports Center since 2010 is proving to be a bane for hundreds of local households.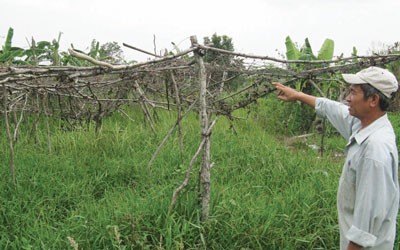 The delayed Sports Center project has greatly inconvenienced local residents in Binh Thuy District of Can Tho City (Photo: SGGP)
The 21 hectare project being constructed by the People's Committee of Binh Thuy District at a cost of VND125 billion (US$5.99 million) has inconvenienced the lives of 198 households in Ward 7.
More than 100 households were paid VND38.4 billion ($1.84 million) in 2010 as compensation during the first phase of the construction. The remaining 80 households are still awaiting payment.
Cao Van Viet, a local resident, said previously he earned VND160 million ($7,670) a year from his 4,000 square meter lemon orchard. After the land withdrawal decision three years ago, local authorities filled up the water supply and drainage canals causing his orchard to dry up.
They informed that Viet would receive a compensation of VND800 million ($38,000), but so far he has not even seen a penny.
Tran Thanh Liem, whose 3,714 square meter orchard was cleared, has visited the district People's Committee many times to ask for his compensation packet but has only received empty promises.
Liem and several others have many times over asked the district to clear their compensation payment or else return their land so that they can at least continue to earn their livelihood, but there has been no response from the authorities.
In 2007, several households cleared part of their orchard land and vacated their houses for construction of the Mau Than-Tra Noc Airport Road, but to date they have not been resettled. They then rebuilt their homes back on their orchard land, which area now falls under the Sports Center construction project. District authorities, however, are agreeing to only pay compensation for the orchard land, not for their houses.
Another contentious issue is that compensation rates vary in the first and second phase. Several households received only VND180,000 a square meter for orchard land in the first phase, but the rate increased to VND617,000 a square meter in the second phase.
Nguyen Be Dung, director of the Land Fund Development Center in Binh Thuy District, said the district ran out of money in the first phase to compensate 80 households.
At the beginning of 2013, the Can Tho City People's Committee allocated another VND26 billion ($1.25 million) for 32 households in the second phase. However, only 14 agreed to receive the indemnity, the others asked for resettlement plus compensation.
Dung said that some regulations have been changed over the last three years, resulting in difference in compensation rates between the first and second phase.
The project has moved at a sluggish pace due to capital shortage and as of now the completion date has still not been notified, he said.