The alarming spread of dangerous diseases was the focus of discussion when the Ho Chi Minh City Department of Health met on Thursday to review the first half of 2007.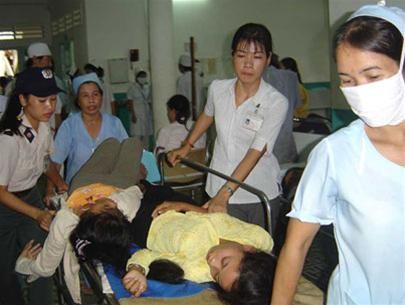 Food poisoning victims are taken to hospitals
In the past six months, dengue fever, rubella (German measles), hand-foot-and-mouth disease and bird flu broke out in unpredictable fashion.

The number of dengue fever cases in the city has reached 1,959 in thirteen districts.
With rubella the number is 1,994, a rise of five per cent on 2006, in part because the disease has been cropping up in schools, factories and offices.

Doctors at Children's Hospitals I and II are particularly worried about hand-foot-and-mouth disease, having admitted 509 afflicted infants this year and seen two of them die.

To combat bird flu, the health department has spent VND10 billion building quarantine wards next to hospitals in all 24 districts. Unfortunately in some cases, the equipment was never ordered or the wrong type was purchased and installed.

Food safety was another pressing issue discussed at yesterday's meeting. The toxic soy sauce incident of recent times and the increase in food poisoning generally have health officials worried.