Illegal occupation of the safety corridor along National Highway 1A in the central provinces has growing quickly, seriously violating road traffic safety regulations, a government road agency warned recently.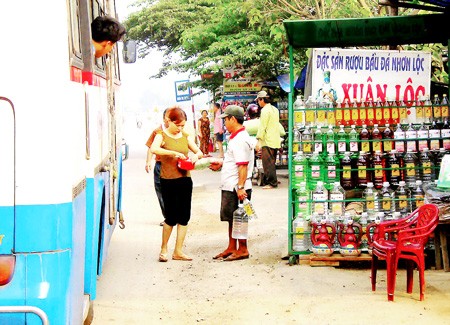 Illegal occupation of the safety corridor seen in An Nhon District, central Binh Dinh Province, which the National Highway 1A runs through (Photo: SGGP)
One year ago, officials from Road Management Zone 5 removed many squatters from the 535 kilometer safety corridor, which runs through six provinces and cities, from Khanh Hoa to Da Nang, but the problem has reoccurred at alarming rate.
There is a high density of squatters, with the area recording illegal occupation of land every 67 meters on average, said the agency.
The safety corridor in towns has the most illegal occupation, with people setting up kiosks and stalls to trade various goods.
The problem is not just down to small households, but also companies too. 
Deputy general director of the Road Management Zone 5, Phan Thai, blamed the situation on three reasons.
First, many households purposefully occupied the safety corridor to conduct trade activities and are ready to pay fines.
Second, the detection and prevention of illegal occupation has yet to be implemented strictly and decisively.
 
And third, local authorities' management over the safety corridor remained loose and incomprehensive.
To improve the situation, many measures need to be taken, including educating the people in protecting the safety corridor, strengthening checks to effectively prevent the illegal building of houses or kiosks on the corridor, and applying adequate penalties, he said.