Yesterday, it was directed that specific measures would be taken to curb the increase of prices of the ten basic necessities until the end of June 2008, by the Prime Minster at the meeting between the Government Standing Board and the relevant authorities in Ha Noi.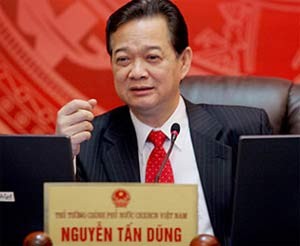 PM Nguyen Tan Dung
The ten necessities include petroleum, electricity, coal, a safe water supply, bus, railway and air tickets, cement, iron and steel, tuition fees and hospital fees.

Prime Minster Nguyen Tan Dung also requested that the relevant authorities at all levels and the public strive for a cut of 10 percent in petroleum consumption.

In an effort to stabilize the prices of food and foodstuffs, Mr. Dung announced that the country will export a maximum of 3.5 million tons of rice this year. Rice exporters are recommended not to enter into any further rice export contracts with their foreign partners.

The PM also urged the relevant authorities to focus on controlling import surpluses and on curbing the inflation rate by imposing higher duties on such imported commodities as automobiles, automobile components, motorcycle spare parts, electronic and refrigeration appliances. Banks are requested to limit loans in foreign currencies to import companies for the importing of such commodities.