Việt Nam must maintain macro-economic stability for sustained development, Prime Minister Nguyễn Xuân Phúc said at a legislature session in Hà Nội yesterday.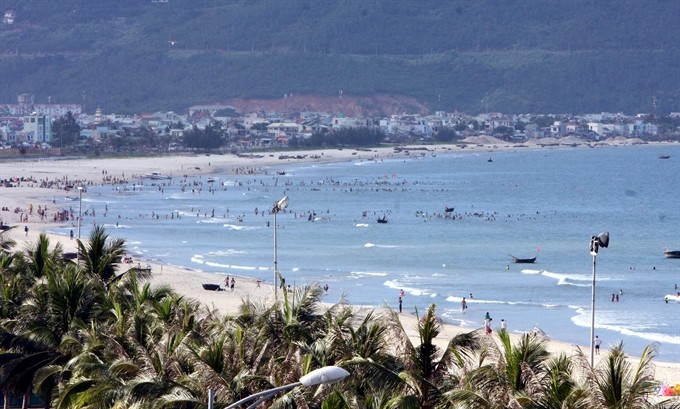 A view of Mỹ Khê beach, central Đà Nẵng Province. Việt Nam must maintain macro-economic stability for sustained development, Prime Minister Nguyễn Xuân Phúc said at a legislature session in Hà Nội yesterday. (Photo: VNA/VNS)

Phúc was discussing the country's tasks for the rest of this year, as he reported on the first half of this year's socio-economic situation that showed various problems the National Assembly (NA) must solve.
Other major tasks include economic restructuring, eliminating business barriers and encouraging start-ups, and strengthening administrative discipline.

The PM also urged efforts to cope with climate change and protect the environment, maintain national independence and sovereignty, and enhance the efficiency of global integration.

According to Phúc, macro-conditions were stable during the first half with credits growing by 8.2 per cent, social investments increasing 11.7 percent, and disbursed foreign direct investment rose by 15.1 percent. Newly registered official development assistance (ODA) also expanded by 61 per cent during the period.

However, public debt was close to the national red line, reaching 62.2 percent of the country's gross domestic product at the end of 2015. Debt payment responsibility over 2011-15 nearly doubled that of the previous five years.

State budget overspending was high with an unreasonable spending structure. The ratio of spending for capital investments fell to 23.4 percent during 2011-15, from 28 percent in the previous five years; while regular spending increased from 55 percent to 65 percent due to growing expenditures for human resources and wages.

Obstacles remained for bad debt resolution. The Việt Nam Asset Management Company settled only 13 per cent of total non-performing loans worth VND241 trillion (US$10.7 billion).

Economic growth slowed to 5.5 per cent in the first half of the year, compared to 6.3 percent in the same period last year. Agricultural production value dropped by 0.18 percent in H1, the first decline in the last few years.

The index of industrial production grew by 7.5 percent in up to July, compared to 9.7 percent in the same period last year. Growth in foreign trade was also slowed to 5.9 percent from 9.2 percent.

Shortcomings also remained in market management, rural development, administrative reforms and law enforcement. National sovereignty witnessed big challenges, and natural disasters and environmental problems were also a concern.

In the face of global economic, social and political headwinds, Phúc said: "We must go on with comprehensive innovation, determination in leadership, and promotion of democracy and creativeness among businesses and people."

During yesterday's session, NA deputies raised the need to attach special importance to climate change and environmental issues.

Environmental incidents

"The nation has resolutions dealing with climate change, but many serious incidents still occur," said Minister of Natural Resources and Environment Trần Hồng Hà, referring to drought in the Cửu Long (Mekong) Delta.

"It is time that the Government prioritised environment and natural resource safety criteria in attracting investments," Hà said calling on international efforts to implement projects that help adapt local people to climate change.

Taiwanese steel firm Formosa was under fire for causing mass fish deaths along the central coast earlier this year. The company was fined $500 million for the fish deaths.

Delegate Hà Sỹ Đồng from Quảng Trị said the number of tourists visiting this central province during the first six months of the year was only one tenth of that in the same period last year.

"The people can't be at rest. The polluted sea has heavily damaged the local economy," said Deputy Trần Công Thuật from neighbouring Quảng Bình Province. "The people are interested in when they can eat fish, and whether we need such a firm – an environmental bomb – or not."

"We won't barter environment for economy," said Tô Văn Tám from the Central Highlands province of Kon Tum.

Delegate Nguyễn Thị Phúc from south-central Bình Thuận Province said Việt Nam must have a clear strategy for maritime development, especially when it is winning support from the international community about its standpoint over sovereignty in the East Sea.

The Government must assist Vietnamese fishermen while China is making difficulties for them with its illegal activities in Vietnamese waters, she said.

Regarding economic issues, despite concerns about increasing public debts and non-performing loans, two of the most important factors affecting national finance stability, deputies said they saw bright prospects at the micro-level.

Việt Nam Chamber of Commerce and Industry Chairman Vũ Tiến Lộc said recent messages from the Cabinet about improving the business environment and national competitiveness promoted faith about a brighter future for enterprises.

"What's most important is that confidence has returned," he said.

First session of 14th NA comes to an end

The 14th NA wrapped up its first session yesterday.

NA Chairwoman Nguyễn Thị Kim Ngân said in her 14th NA closing remarks yesterday that newly-elected deputies have shown their activeness in reviewing and making decisions on important national issues.
The 14th NA would need to continue to renovate and improve its effectiveness to accomplish assigned tasks, she said.

During a press conference after the closing ceremony, NA Office Chairman and NA Secretary General Nguyễn Hạnh Phúc said that 316 out of 494 NA deputies were elected to the NA for the first time.
They attended training sessions for new deputies. During the first session, the gathering received many good ideas and comments from new deputies, he said.

Regarding oversight on implementing the commitment to environmental protection of the Taiwanese-owned Formosa company, Phúc said that the NA Standing Committee had assigned the NA Committee for Science, Technology and the Environment to supervise the case.

Based on the report from NA Committee for Science, Technology and the Environment, the NA would consider and make further orders.

The NA would also conduct oversight on "The implementation of laws and policies on food safety" during its third session in May 2017 and "The implementation of laws and policies on reform of the State administrative apparatus for the 2011-2016 period" during its fourth session on October 2017, he said.