The country's central committee for anti-trafficking of counterfeit goods and trade fraud has decided to introduce a new stamp mark that will have an identity code number, serial number and telephone number on products of genuine origin crossing custom checkpoints0.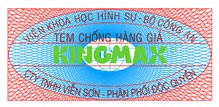 A kind of stamp mark to identify genuine goods
Customers wanting to verify genuine products from counterfeit goods can check the identity numbers and ascertain their genuineness by text messaging an operator.
Statistics brought out by the Vietnam Consumer Rights Protection Association reveal that at least 62 percent of consumers have at some point bought counterfeit goods.
Foreign brand goods and cosmetics were the two categories targeted by counterfeiters at 70 percent and 50 percent respectively.
This new method of an identification stamp marking should help in reducing the damaging effects of counterfeit goods, which are causing great loss to genuine manufacturers.