The National Assembly's (NA) Standing Committee convened its 38th meeting yesterday to make key preparation for the next NA agenda this month.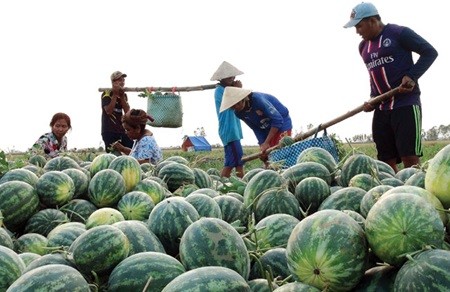 Watermelon harvest in Soc Trang Province. The risks farmers face from vagaries of weather and the marketplace will be discussed by the upcoming National Assembly session. — VNA/VNS Photo Chanh Da
NA chairman Nguyen Sinh Hung said the four-day meeting would hold discussions on key issues, including socio-economic development last year and during the first months of this year, State-budget spending and a draft on Civil Law and Law on Referendum.
He said this year was the last year to implement the national five-year socio-economical development plan (2011-15), adding that Viet Nam was experiencing a deeper international integration with the opening of free-trade pacts with other countries and regions.
"This requires us to have a thorough revision on achievements and shortcomings to complete tasks by the end of the year," he said.
Minister of Planning and Investment Bui Quang Vinh reported on the implementation of the 2014 socio-economical development plan.
He said there were positive developments, including an ore stable macro economy, curbed inflation rate, slightly-increased consumption price index, decreased interest rate and trade surplus in balance of international payments.
The gross domestic product (GDP) grew by 5.98 per cent last year, the highest growth since 2012, he said.
GDP for the first quarter this year was estimated to reach 6.03 per cent, the highest growth for the period since 2011, Vinh said.
However, industrial production and construction was the only sector reported to have had higher growth than that for the same period last year.
He said that the country faced difficulties in the first quarter as exports fell, imports increased, and the number of foreigner visitors dropped compared with the same period last year.
Prolonged drought in central and Central Highlands regions have affected crops.
Equitisation among State-owned enterprises was still slow, Vinh said. This did not help improve the performance of enterprises.
"In the last two months, Vietnamese farmers faced difficulties in selling their products, not only watermelons and onions, but also rice," he said.
"Other countries are also restructuring their economies and they are doing well, which puts Viet Nam in tougher competition," Vinh said.
He emphasised the need to accelerate the country's economic restructuring and equitisation of State-owned enterprises to improve quality of human resources, to ensure social welfare and promote environmental protection.
Chairwoman of the NA's Committee for Social Affairs, Truong Thi Mai, said farmers had problems selling their products.
She urged Government to take drastic measures to help farmers lift product competitiveness.
She also asked Government to pass a new set of criteria to measure multi-dimensional poverty by the end of this year so that the country had statistics on the number of poor and near-poor households and could properly allocate funding.
Head of the NA Committee on Finance and Budget, Phung Quoc Hien, said Vietnamese farmers had yet to narrow the gap between production and market demand.
Chairman of the National Assembly Council for Ethnic Affairs, K'sor Phuoc, said that the number of poor households would probably increase when Viet Nam started to apply a multi-dimensional approach to poverty, not only income approach as at present.
The gap in living standards, particularly in income, was a major cause for many social contradictions, for example those in the Central Highlands region, he said.
"Narrowing the gap is a big challenge," he said.
The NA's Standing Committee yesterday also discussed State's budget spending last year and during the first quarter of this year.
They will discuss a draft of the revised Civil Law, Law on Referendum and revised Article 60 on the Law on Social Insurance about lump-sum social-insurance payments.
Last month, workers at Taiwanese Pou Yuen Company Ltd in HCM City's Binh Tan District - a leather and footwear company - went on strike about a regulation that labourers cannot receive one-off social-insurance payments until they quit their last jobs.