Prime Minister Nguyen Tan Dung paid New Year (Tet) visits to former Party General Secretary Do Muoi, former State President Le Duc Anh, and General Vo Nguyen Giap on February 2.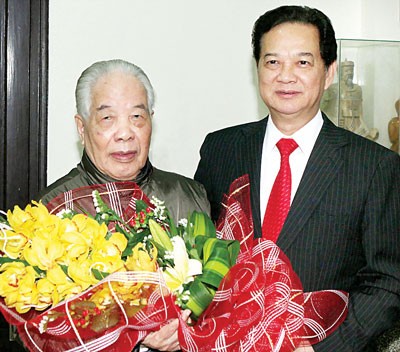 Former Party General Secretary Do Muoi (L) and PM Nguyen Tan Dung. (Photo SGGP)
The former leaders praised the Vietnamese Government's work throughout 2012, helping the nation overcome difficulties and challenges, attain great socio-economic achievements, and reinforce national security and defense
They said they hope the Government will redouble their efforts in its managing and guiding the country to rapid development.
PM Dung extended his best good health and longevity wishes to the former leaders, reiterating his intent to collaborate with cabinet members on using 2012's achievements and learning from its disappointments to boost national development in the New Year.
On the same day, Le Hoang Quan, member of the Party Central Committee, Chairman of the HCM City People's Committee visited Armed Forces Hero Nguyen Van Tau (Tu Cang), Heroes of the Armed Forces family Nguyen Duc Hung (Tu Chu), Heroes of the Armed Forces family Pham Xuan An and martyr families Pham Ngoc Tan - who participated in direct combat in the Tet offensive of 1968.
Mr. Le Hoang Quan sent good health wishing, expressed hope that their families of the fighters continue to contribute to the cause of national construction.
The same day, Mr. Le Hoang Quan visited and presented gifts to Binh noodle restaurant (number 7 Ly Chinh Thang Street, District 3), where before 1975 the the forward command Command Division 6 located.
He also visited Tran Van Lai's house (287/70 Nguyen Dinh Chieu Street, district 3), where stockpiled more than two tons of weapons to sever the spring military offensive of 1968.
Mr. Quan expressed his gratitude to the families who had contributed to the revolution against United States backed regime and for long time continued to use part of their houses to preserve the historical sites.