State-run corporations have vowed to join the Government's efforts to curb inflation in deference to the Prime Minister's orders.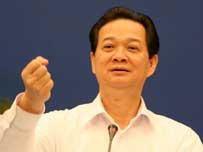 PM Nguyen Tan Dung gestures during the meeting Tuesday with state-run corporations
Speaking at a meeting with the heads of state-run corporations in Ha Noi Tuesday, PM Nguyen Tan Dung told them to increase productivity, cut costs, stop inefficient investment projects and slash prices at this time of high inflation.
They then spoke out their thoughts. Excerpts:

Mr. Dinh La Thang, chairman of PetroVietnam:
I agree with the guideline that state-run corporations must focus investment on their main areas. The Government should check on cases in which State-run corporations operate in many areas, and if ineffective investment is found, a stop is a must.
We will have to accelerate work on major gas and oil projects. For example, we expect that Dung Quat Economic Zone would begin supply the first products by February 2009. We will take part in efforts to stabilize prices in general.

Mr. Truong Dinh Tuyen, former Trade Minister, member of the National Council for Monetary Policy:
I think that the most important measure to curb inflation now is to cut investments from public funds. At present, investments from public funds create low efficiency. State-run corporations and groups must carefully select projects to invest, and they must focus on their major areas.

Mr. Doan Van Kien, chairman of Viet Nam National Coal and Mineral Industries Group:
We do not increase our prices subject to the Government's instructions. Our current coal price is lower than the production cost, and the gap in the import and domestic prices of coal may breed illegal trade.

Mr. Pham Le Thanh, CEO of Electricity of Viet Nam:
Some families pay up to more than VND10 million [over US$625] each for the monthly electricity bill. They use too much power as they warm the swimming pool at home with electricity. Many organizations have increased power consumption instead of saving power. It's time to fine those who waste electricity in stead of only calling for them to save.

Mr. Tran Bac Ha, chairman of the Bank for Investment and Development of Viet Nam:
We need to call for all people to practice thrift, but there should be specific regulations on thrift so that everyone has to do their duty for the fatherland during the tough period. At our bank, each staff member has put VND3-5 million in their saving accounts. The total, say, is VND300 billion [US$18.75 million]. On a larger scale, each Vietnamese should be encouraged to save some money to help the Government curb inflation.
Related article
Businesses Must Avoid Price Hikes, PM Dung Says