State President Nguyen Minh Triet pinned the legend "People's Armed Forces Hero", a high State honour, on the traditional flag of Radio the Voice of Vietnam on September 7, for its 64-year contribution to the national defence.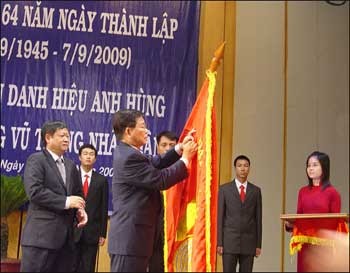 President Nguyen Minh Triet pins the legend "People's Armed Forces Hero" on the traditional flag of Radio the Voice of Vietnam on September 7 (Photo: VOV)

The State leader also handed the VOV a bronze drum as a special gift for the radio staff, praising them as a solid political foundation and national leader in mass media.
He recalled the Radio's first broadcast disseminating nationwide the Declaration of Independence delivered by President Ho Chi Minh on September 2 as a major milestone.
"Since then the VOV has always fulfilled its political tasks, contributing to foiling the enemy's manoeuvres and attempts at sabotage, emerging as a reliable friend and a companion of people of all walks of life in peaceful national construction," Triet emphasised.
The State President noted that the national radio has managed to preserve its authentically Vietnamese character in its broadcasting programmes amid the world-wide trend toward global integration while its editorials and commentaries against the enemy's distortions and attempts at so-called 'peaceful evolution' were very acute, profound and convincing.
The President called on the VOV staff to resolutely bring to light negative cases and refute reactionary arguments.
Radio General Director Vu Van Hien reported that his agency has so far expanded its business to print, television, and on-line media. Its international broadcasting programmes have been aired in 11 foreign languages and in Vietnamese for expatriates.
The VOV is a full-member of the Asian-Pacific Radio and TV Association.
In regard to the domestic market, the national radio has set up relations with over 70 radio and TV stations nationwide and targeted ethnic minorities with programmes in 11 languages, reported the VOV chief.