President Truong Tan Sang has requested Nghe An province to accelerate the application of science and technology in industrial production, and develop concentrated agricultural production models in order to become an economic centre of the northern central region.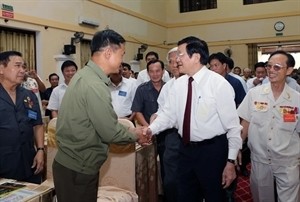 President Truong Tan Sang meets with veterans in Nghe An province (Source: VNA)
While meeting with local authorities on August 8 as part of his visit to Nghe An, the President acknowledged the province's socio-economic development achievements, with per capita income expected to reach 29 million VND (1,329 USD) in 2015.
The new-style rural area building campaign has been implemented widely, with infrastructure facilities improved. In the first half of this year, Nghe An granted and adjusted investment licences to 107 projects worth over 33 trillion VND (1.52 billion USD).
However, the State leader asked the province to maintain focus on vocational training to develop a skilled workforce, as this is an important element during the industrialisation process.
It is necessary for Nghe An to efficiently use official development assistance (ODA) loans and avoid inappropriate investments and wastefulness, and connect more closely with other localities and businesses to make it strong enough for integration.
As a border locality, Nghe An should also pay more attention to improving the lives of locals and preventing migration, he added.
The same day, the State leader attended the second congress of the Nghe An association of former revolutionary prisoners, during which he requested local authorities to continue assistance for the families of former revolutionary prisoners, who are living in disadvantaged circumstances.
On August 7, the State leader joined National Assembly Chairman Nguyen Sinh Hung, Deputy Prime Minister Nguyen Xuan Phuc and NA Vice Chairman Uong Chu Luu to attend the inaugural ceremony of the Truong Bon historical site in My Son commune, Do Luong district.
Addressing the ceremony, President Sang recalled unforgettable events from the war time in Truong Bon, a key transport hub from the north to the south where over 1,200 officers, soldiers, volunteers, transport workers and militia sacrificed their lives to ensure the transportation of aid to the southern front, contributing to the liberation of the south and national unification.
He noted the relic site's significance in paying tribute to the fallen heroes for national independence and freedom and educating young generations on the nation's patriotic and resilient tradition for the country's prosperity and immortality.
He also offered incense at the Kim Lien relic site in Nam Dan district, which is late President Ho Chi Minh's hometown.-VNA