Vietnam and Algeria should bolster cooperation on experience-sharing, at regional and international forums, on agriculture, health, education, construction and trade, said the State leader.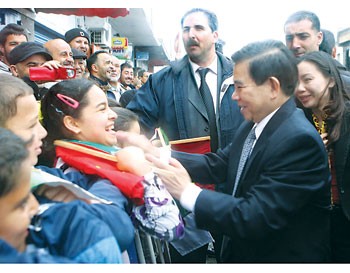 Algerian children welcome Vietnamese President Nguyen Minh Triet on Ho Chi Minh Street in Alger Capital on April 15, 2010.
Visiting State President Nguyen Minh Triet put forth the suggestion during his separate meetings with Prime Minister Ahmed Ouyahia, President of the Council of the Nation Abdelkader Bensalah and the Speaker of the National People's Assembly of Algeria, Abdelaziz Ziari, on April 14 (local time).
Vietnam wants to penetrate the African market via Algeria, and in return, it is willing to serve as a gateway for Algerian commodities to enter the Asian market, he said.
The president said Algeria is a faithful friend of Vietnam and the people of his country will always treasure and do their utmost to nurture the friendship between the two nations.
Despite their geographical distance, Vietnam and Algeria have enjoyed close links and shared viewpoints on regional and international issues, President Triet said, adding that the two countries need to promote their relationship to expand economic development and improve living conditions for their peoples.
PM Ouyahia said the Algerian government is sparing no efforts to ensure the success of the ninth meeting of the Vietnam-Algeria Inter-governmental Committee, which is scheduled to take place in 2010.
The government of Algeria expects that Vietnam will share its experiences and foster cooperation in agriculture and construction, especially in ensuring food security, the PM added.
Both Bensalah and Ziari stressed that the leaders and people of Algeria have been optimistic about the prospects for cooperation with Vietnam.
While emphasising the importance of parliamentary diplomacy, the Algerian lawmakers said their legislatures wish to step up cooperation with Vietnam's National Assembly