Nguyen Phu Trong, Party General Secretary, yesterday visited the Office of the Central Committee of the Vietnamese Communist Party, where he thanked all staff members for supporting the work of the central committee in implementing the country's socio-economic policies.
Comrade Trong stressed that the Office is a key organization that consults the Party's Central Committee, the Politburo and the Secretariat. The Office will play an important role in helping the country reach its socio-economic targets for 2012 and in implementing the resolutions passed at the fourth plenum of the Party Central Committee.
Yesterday the party leader also offered Tet greetings to leading scholars and scientists and visited three of the most notable in Hanoi, namely, musician Pham Tuyen, mathematician Professor Hoang Tuy and poet Huu Thinh.
Comrade Trong said the Party and State appreciated their great contributions towards national development.
He noted that the country needed more such efforts to achieve better national industrialization, modernization and renewal of education-training and science-technology.
On the same day, Comrade Trong also visited Vietnam News Agency in Hanoi. He underlined the role and responsibilities of VNA as a reliable strategic information provider of the Party and State.
Comrade Trong commended VNA on its performance on assigned political tasks and its efforts to renew content and reporting styles, saying that VNA is an information bank providing all kinds of information on domestic and world situations to media agencies and people of all walks of life.
During his visit, the Party chief visited VNA's Departments of World News and Domestic News and wished all reporters, editors and technicians a Happy New Year.
On the same day, President Truong Tan Sang toured the two central provinces of Ha Tinh and Nghe An, and the High Command of Military Zone 4.
In Ha Tinh, the President praised the province for overcoming challenges posed by the world economic crisis and natural calamities to gain 11.7 per cent growth, the highest rate in recent years.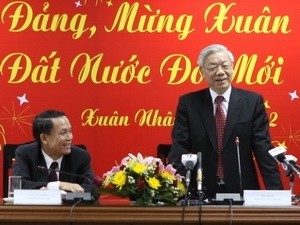 Party General Secretary Nguyen Phu Trong (R) pays New Year visit to Vietnam News Agency (Photo: VNA)
He reminded local authorities to pay special care to the underprivileged so that they could enjoy a happy Tet.
In Nghe An, Comrade Sang also recognised provincial efforts to sustain an economic growth rate higher than the national average, despite being pounded by three typhoons with losses mounting to more than VND2 trillion (US$95.2 million) last year.
Speaking to officers in the High Command of Military Zone 4, President Sang urged them to stay vigilant and work with civilians and militia to safeguard the country.
Yesterday, Nguyen Sinh Hung, Chairman of the National Assembly, burnt incense at the late President Ho Chi Minh's memorial at the President Ho Chi Minh relic site in the Presidential Palace complex in Hanoi, on occasion of Tet New Year.
Chairman Hung expressed gratitude for Uncle Ho's great contribution to the cause of national liberation.
On the same day, Nguyen Xuan Phuc, Politburo member and Vice PM, visited Hung King's memorial in northern Phu Tho Province , visited and offered Tet greetings to Military command zone 2 and martyr's families in Viet Tri city.