The 25th Birthday of the Viet Nam Buddhism Association was held Thursday in Ha Noi.
Addressing the ceremony, State President Nguyen Minh Triet said that Buddhism engages in activities involving hunger alleviation reduction and poverty reduction, building houses for the poor, proving money to typhoon victims and cultivating new lifestyle.

Buddhism Association, he added, has made great contribution to the country's building and protection.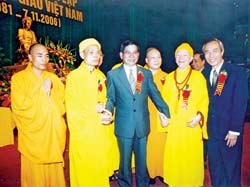 President Nguyen Minh Triet at the ceremony of the 25th Birthday of the Viet Nam Buddhism Association
Vietnamese government highly appreciates the association's role. What the association has achieved is the efforts of more than 2,000 years of Buddhism and Vietnamese people.

The President also asked the association to reinforce and further its all-sided strength to develop and meet the nation's requirements in the renewal period.

At present, more than 40,000 monks and clergies practice in the Viet Nam Buddhism Association.
The association shows its solidarity and harmony among its members through 25 years to contribute to the country's development.
To date, the fund has raised over VND700 billion for its philanthropic fund.
In addition, the association set up 655 clinics to examine and provide free medicine worth over VND23 billion to poor people; furthermore, around,467 orphaned and disabled children are studying at classes opened by the association,

State president Nguyen Minh Triet, former president Tran Duc Luong and some government leaders participated the ceremony.